*NOTE* - This is a trip report for a surprise Walt Disney World trip that we took in January of 2011. I posted this to a few Disney-related forums. They were posted in 'Chapters', but I am going to try to post them all in one post here. I figured this is a good way to show potential clients the kind of fun and excitement they could have on a trip to The Most Magical Place on Earth. I also compare onsite vs. offsite stays and a little Disney vs. Universal comparison.
Preface: Come in! Come in and know me better, man!
---

For those of you who have not read my pre-trip report, WHY THE HECK NOT?! Am I really going to have to set the stage again? Well, if you are as lazy as I am and don't like clicking on links to other reports just to read this one, you are in luck! I am going to include a little background information about me and my family. This will be a quick - and maybe even informative – way to get to know the characters you will be reading about (if you continue past this part of this 'unique' trip report.)

Me, Myself, and I: I am an avid Disneyholic and got 'bitten' by the Disney bug a few years ago. I live for my family and for visits to Disney destinations. Between trips I like to watch baseball (I have been an avid Texas Rangers fan since I was born), play Rock Band/Guitar Hero games with my son, watch movies, play golf (even though I haven't played in years – but hopefully that will change this spring), and hang out with my family. I recently became a home-based travel agent specializing in Disney vacations in addition to my regular gig as an IT Server Administrator for a cutting-edge medical group. I may have been told once or twice that I have a unique sense of humor – I'll leave that up to you, though.

DW: She has to put up with my shenanigans on a daily basis, so feel sorry for her. She is starting to move over to the light of being a self-proclaimed Disneyholic, too. She works full-time and still finds time to play with the kids, clean house, and help our son with his homework. I am a lucky guy. (Yes, she will probably read this.)

DS: A 10 year old boy who likes Disney, video games, Harry Potter stuff, video games, eating, video games, hanging out with the family, video games… well, you get the picture.

DD: She turned 4 a few days before we surprised the kids with this trip to The World. So it was a birthday celebration trip in addition to the family vacation. She is a Disney Princess (at least in her mind), loves to play dress-up and she likes to play Bibbidi Bobbidi Boutique makeover at home (as well as watch other BBB videos on You Tube daily.) She may be slightly spoiled – but in a good way.


DM: My mother since birth. She is a kind and generous woman who is sweeter than the day is long. She likes to hang out with family and have a good time, though her 'earth experience' causes her to pass on some of the more exciting rides at Disney.

If you want more background about us or the build-up for this trip, please feel free to read my Pre Trip Report here.

Up next, how we surprised the kids with the trip…
Chapter 1: Wait! Wait! We are going to the castle TODAY?!
---
January 28, 2011 – Day 1

We woke up on Friday, January 28th, and proceeded to act as if it were just another ordinary day. My children were starting to get really excited about their upcoming trip to Walt Disney World – which they thought was just a few short months ahead. Little did they know that all that planning we had been doing for our 'Spring Break' trip was actually for the trip that would start today. I was very excited and woke up several times during the night – like a kid at Christmas. The glowing blue lights of my alarm clock read 2:25am… back to sleep. 3:45am… back to sleep. 4:20am… argh! *snore* 5:30am. I tried to go back to sleep, but I couldn't – I was ready to go open my presents! But I had to play it cool for a little while to not give away the secret until it was time.

I got out of bed and noticed, not surprisingly, that DW was also up a little earlier than normal. We exchanged sly smiles and she took her shower to start her normal get-ready-for-work ritual to the Gods of Divine Beauty. DD was up by this time and crawled into my bed for her normal get-ready-for-school TV watching. I then started my get-ready-for-work regimen. We all got ready, including DS, and left about the same time from the house. DW took DS to school and reminded him that he has a (fake) orthodontist appointment in the afternoon. She would pick him up and we would have lunch together before his appointment. I proceeded to take DD to her preschool as usual.

A little backstory: The plan for lunch was to order pizza and then bring out the surprise cookie 'cake' that we would have DS read aloud so DD could know what was going on. This was a deviation from the original plan of going to Bosses Pizza for lunch – mainly due to time constraints. Adapt, improvise, and overcome, right? We had explained to the kids that Grandmother and Grandpa would be coming to visit (from Tyler, Texas – about a 3 hour drive) and would possibly have lunch with us also if they arrived in time. And my mom – grandma - may also stop by to have lunch with us since she took the day off work. I was worried DS would start to think something was up, but it all worked out- he was Mr. Oblivious (thank goodness.)

After the kids were dropped off, the packing derby started. I pull out the suitcases and start getting my things packed. DW had set aside some items and we were able to get all the packing done before noon. While I had started the packing, DW – thinking swiftly – went and picked up a large cookie 'cake' from Wal Mart. We had planned to make a homemade cookie, but timing was not on our side today – and she thought the smell of freshly baked cookies would definitely set off the something-is-not-quite-right alarm. When she brought it home I put the surprise wording on it so it would be ready for the big reveal. We stuck it in the oven to keep it out of site. (Yes, the oven was off!)




My in-laws showed up around 10:00am along with Nana (DW's grandmother.) Around noon-ish, DW picked up the kids. She informed DS that his orthodontist appointment was canceled, but she had already planned to have lunch with everyone so she took him out of school anyway. DD was picked up and they all came home. As they pulled up, the pizza delivery guy was at the door and my mom showed up then also. It was like a perfect timing triage – a good sign for things to come. (Or was it?! Could I be foreshadowing something? Or could I be throwing in some extra crap to read for the humor factor? Hmmm… you will just have to wait and see.)

We had our pizza then I got the camera ready to record what happened next. Here is the link to the video:

Click me to see this crudely edited video


DS was taken aback. DD didn't quite grasp what was transpiring at the time. About 10 minutes after the video, she was in our room while we finished packing and it hit her like a ton of Dilithium, "Wait! Wait! We are going to the castle TODAY?!" She got so giddy. I wish I had the video rolling at the time. Too cute - you will just have to take my word for it. (Duh, this is a trip report. I could type just about anything and you would have to take my word for it, huh? *Evil Laugh*)

The in-laws left, taking our Maltese puppies because they would be watching them while we were gone. Then we made sure we had everything packed and DM dropped us off at the airport. Off to Tampa. Wait... Tampa?!


In the next chapter: Why we flew in to Tampa International, and the condo.
Chapter 2: Planes, Condos, and Automobiles
---
January 28, 2011 – Day 1 (cont'd)

Does cheaper flight + cheaper car rental offset longer drive? That was the $64,000 question.

However, I didn't realize how much longer a drive it was from the Tampa airport to Disney property, as opposed to the Orlando airport. I had heard others say it takes about 45 minutes from Orlando airport to Disney property, and Tampa is about an hour. Using that information, surely Tampa is the way to go, right? [Uh, don't call me surely (or Shirley.)] Looking back, I realize the 45 minutes from Orlando airport must have been talking about some type of rush hour traffic, during major road construction, or pulling over for a short nap on the way. I live in the metro area that was just named "worst commute in the country" by some magazine – I don't know which. I am used to driving in traffic. I am used to 'rush hour' meaning 6am – 10am and 3pm – 7pm. And the 'about an hour' from Tampa must have been someone with a DeLorean and a Flux Capacitor. Knowing what I know now, we will stick with the Orlando airport from now on.

Here is a little time line for you to show why:

8:05pm – flight arrives at Tampa International
8:15pm – flight arrives at gate
8:25pm – get off flight
8:50pm – pull rental car up at arrival area to load family and luggage
8:58pm – start driving to condo
9:15pm – DD asleep in car seat, realize we didn't eat dinner
9:21pm – go through McDonald's drive thru, sit in parking lot eating while DD sleeps
9:33pm – back on I-4 East towards Orlando
11:01pm – stop at Super Target (near condo) for supplies; realize Super Target closes at 11pm
11:06pm – stop at Publix for supplies; realize Publix closes at 11pm
11:11pm – stop at 24hr Wal*Mart for supplies; realize 24hr Wal*Mart closes at 11pm (not really, I went in for supplies while DW, DD, and DS slept in van)
11:35pm – drive to condo
11:45pm – arrive at condo
12:05am – finish unloading luggage and supplies (by myself while DW, DS, and DD sleep in condo)
12:55am – finish unpacking most items and finally get to lay down to sleep, prepared to wake up at 6:45am to get ready for RD at MK

Now that I found out (through my Universal Orlando training for my travel business) Universal offers a package with a one day 'park hopper' pass with free transportation to/from a Disney resort – we will be avoiding the car rental altogether and stay on Disney property next time. The condo was very nice, clean, spacious, and great… but we really missed the Disney buses from the Disney resorts. And we missed being dropped off right near the entrance to Magic Kingdom. And we missed being able to easily and conveniently take an afternoon break back at the room without the following: loading on ferry boat/monorail to the TTC, loading on tram to parking area, walking to parking space, getting loaded into van, drive to condo, unload and break, load back up and drive back to TTC, loading on tram, loading on ferry boat/monorail to Magic Kingdom. When staying at the resort it is short and sweet (like me): hop on bus to resort; break; hop on bus to MK.

In conclusion to the whole off site condo thing: the condo was great, but the logistics didn't fit our family situation well. When you only spend time away from the parks to sleep, shower, and get ready to go back to the parks – all the space the condo affords goes to waste. It did come in handy when we left early one night and used the pool, but the Disney resorts have pools, too. We would have been just fine with a value or moderate resort instead with less overall hassle for us. That is why we are already looking into a return trip with an on-site stay this summer (DW feels guilty for recommending an off-site condo. Should I tell her that it was my idea? Nah, I'll let her think… wait, she will be reading this eventually. Honey, disregard the previous two sentences, OK?) Overall it was a great vacation with the condo and rental car, but we really got spoiled by the on-site resorts the last few times we have been.

In the next chapter: MK day and a magical moment for DD! (And I will start putting in photos from the trip - and maybe more video.)
Chapter 3: (Title too long, see below)
---
Chapter 3: We dance, we kiss, we schmooze, we carry on, we go home happy. What do you say? Come on.

January 29, 2011 – Day 2 (MK Day)

I saw the winning numbers for the Mega Millions jackpot were sold in Texas. Wait… I spent $2 on a Mega Millions ticket the night before we left Texas to start our family vacation to The World. What the heck, let's check to see what city sold the winning ticket. After a few keystrokes I saw the winning ticket was sold in Watauga, Texas. Hmmm. The RaceTrac I stopped at to fuel up the van before we left (and purchased the lotto ticket) was in Watauga. My heart starts pounding and my hands start to tremble a little. Where did I put that ticket? It's in my wallet. I quickly reach for my wallet like Han drawing down on Greedo. I fumble around and finally pull out the ticket to check the numbers. The first thing I always look at is the Mega Ball. "8". I look at the luminescent screen that is currently lighting up the otherwise darkened room with an eerie bluish-white tinge. The Mega Ball numbers match, according to the trusty Lotto results web page I had surfed to. Cool, I won at least my $2 back. I glance at the winning numbers, as told by said website… "4, 15, 16, 23, 42." I look at my ticket, squinting to make out the numbers through the glow of the artificial lighting source. "4, 15, 16, 23, 42." OH MY GAWD! I start trembling uncontrollably. I look again, check the dates. Is this really happening?! Yes, after checking 5 times I have verified - I just won over 100 MILLION DOLLARS! The first thought I have is like I just won the Super Bowl… "you just won 100 million dollars, what are you going to do now?" DUH! "I am going to Disney World!" I immediately start hearing a ringing in my ears. My vision starts getting blurry. Is this the end? Am I having some type of deathly heart attack at my ultimate moment? What irony. Wait, that is not ironic… just a really morbid coincidence. The ringing grows louder and LOUDER! "beep!…Beep!!…BEEP!!!"

Suddenly I realize I am not dying. The loud ringing is my alarm clock barking at me to wake up from my ultimate dream. Oh, man… what a letdown. Don't you hate it when that happens? Well, I soon realize that I shouldn't be too downtrodden… I am about to get ready to go to the Magic Kingdom with my family on the first full day of our 2011 Vacation Spectacular (or Spectacle…whatever!)

I make sure DW is awake and we start getting ready. By this time DD and DS are awake and excited to get to Magic Kingdom and start the Disney part of this vacation. We end up running a little later than I planned and (after the whole drive to TTC, get on Monorail to MK) we arrive at the gates around 9:15am. Luckily, this is the end of January and the parks won't be nearly as crowded as the times we have been here in the summer. I would like to go commando-style and hit Fantasyland with a vengeance. I figured we could still stick to the plan and maybe just skip Dumbo to be on-track. But the kids had other plans. OK, I decide today will be a play-it-by-ear(s) day (pun intended.) We will do the touring plan commando style on the second MK day later in the week. Note: I did not take good notes of what we did in what order, so I will be winging it. I will be sure to take good notes for the next trip.

We end up starting out in Tomorrowland – Astro Orbiter.



After that, we go to get our funny on at the Monsters, Inc. Laugh Floor.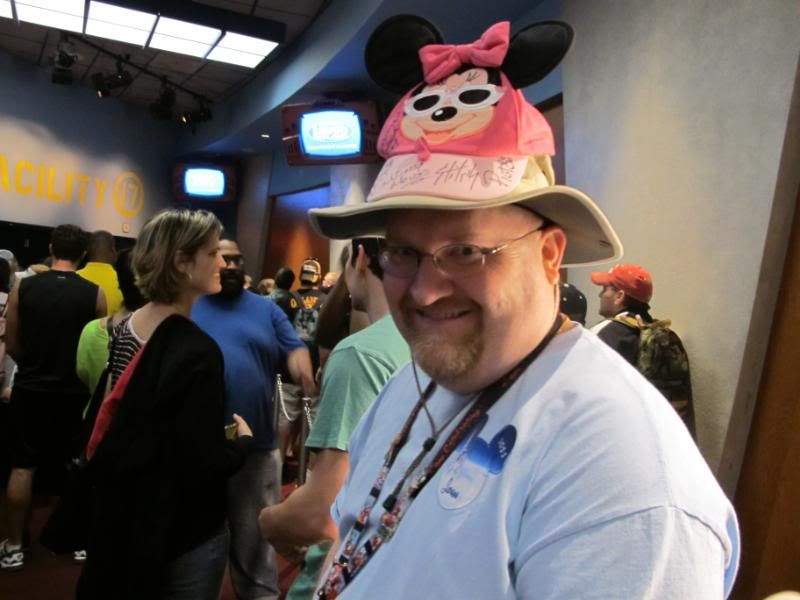 I was 'That Guy' (those of you who have done this attraction should know what I am talking about.) I don't know how I do it or why they pick on poor little ol' me. Actually, I have been 'That Guy' in each of the 3 trips we have done. I don't get picked every time we do this, but I have been picked at least once during each trip (we usually end up doing this 3 or more times per trip.) I don't know if this would actually be considered a 'good thing' to brag about; but it is fun, and the kids love it so I play along.

Then it was time to save the universe from the evil Emperor Zurg on Buzz Lightyear's Space Ranger Spin.

Next, we do one of the kids' favorites – the Tomorrowland Transit Authority PeopleMover. Here is a little video of the fun:
Kids Having Fun on TTAPM

We caught most of the show in front of the castle, the new Celebrate a Dream Come True.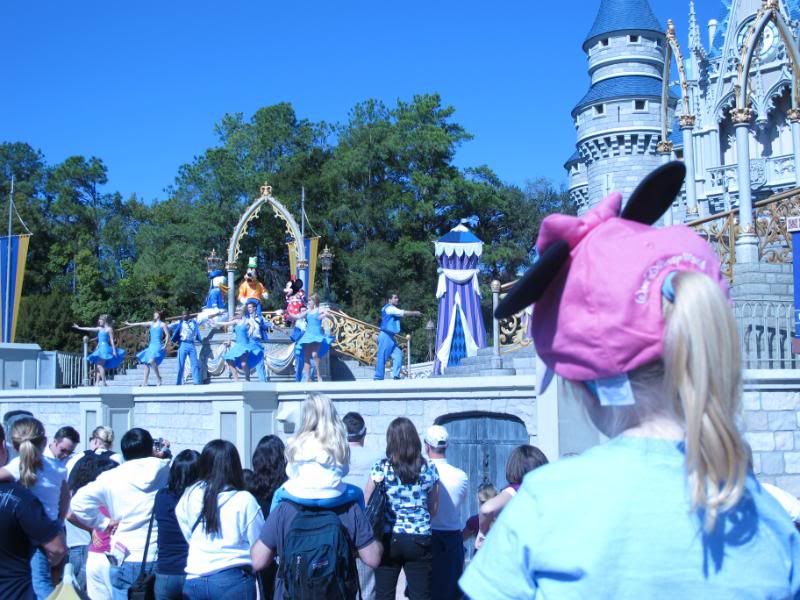 It was nearing lunch time, so we decided to go to Pinocchio's Village Haus for a counter service lunch. On the way, DD stopped to see Peter Pan.



We ate our lunch and then rode Snow White's Scary Adventure. The kids were having so much fun and being so nice to each other.




We decided to head over towards Adventureland. Pirates of the Caribbean was next.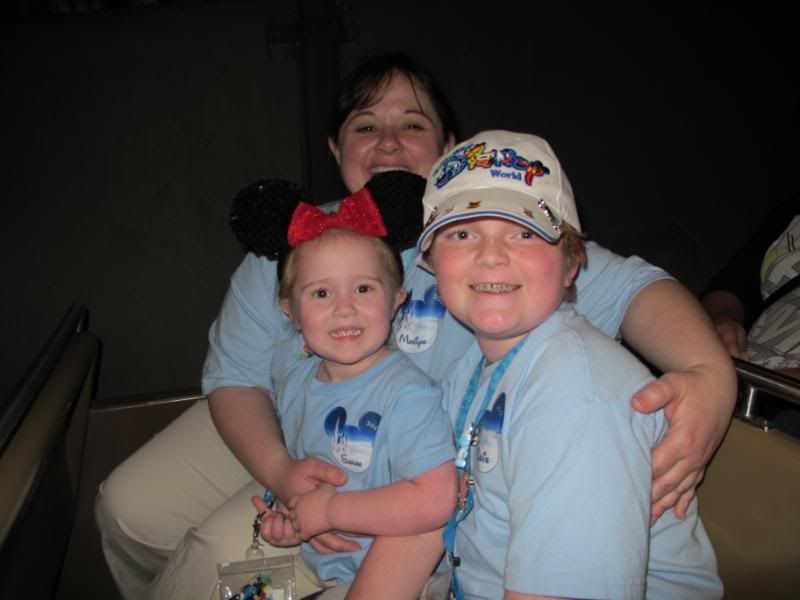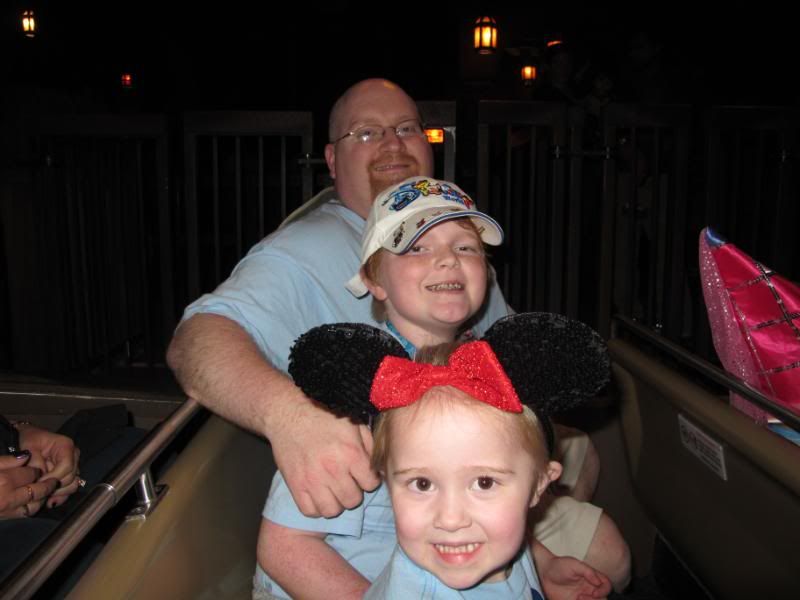 They rode the Magic Carpets of Aladdin and we took a little rest break – we sat down and had a drink and some popcorn, and I picked up one of my favorite snacks at Walt Disney World: the Pineapple Dole Whip Float. Mmmm… heaven in a cup!

I don't recall what we did from this point until we went over to the castle for DD's 5:00pm Bibbidi Bobbidi Boutique appointment.
Before: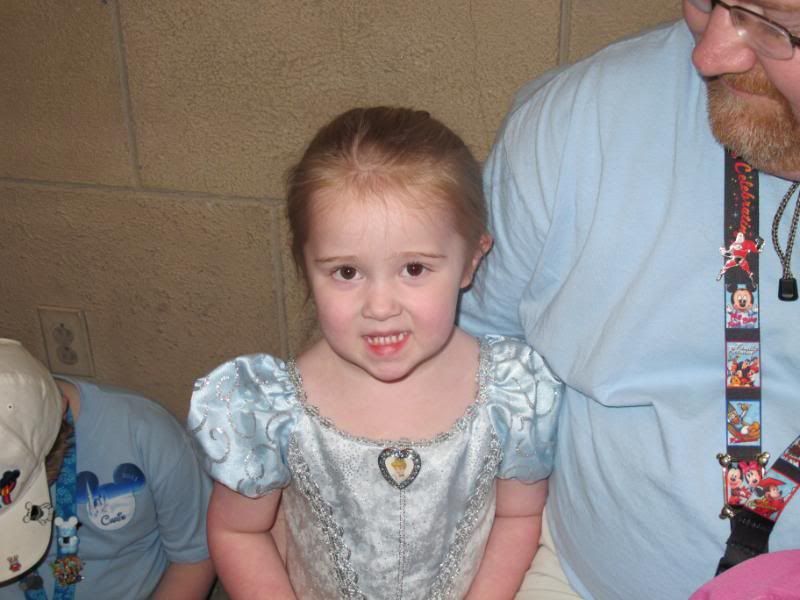 The big reveal:



They finished up earlier than I expected, so we walked over to the check-in desk for Cinderella's Royal Table. I wanted to see if they could seat us early. We had an ADR for 6:45, but it was 5:45 at this point. The great thing about going to the parks in the non-peak season: we were able to get put in the queue for a table early. They let us go in and have our picture with Cinderella, then we would wait for them to call us to our table.



After we got our photo, they called a few other families for their tables. Then there was only our family and one other waiting. No one else had checked in and I guess Cinderella was getting bored. So she walked over and asked my little princess to dance. A true Disney Magical Moment! (click the link below for the video)

DD and Cinderella

As you could hear near the end of that video (if you were able to watch it), we were ready to be seated at this time. I started out with the Cheese Plate appetizer, and had the Roasted Beef Tenderloin entrée:



It was good, but DW and I both preferred the Fried Chicken entrée DS ordered. Also, the last time we did this, they had one of my favorite desserts in all of WDW: a Caramel Crème Brulee . It was no longer on the menu. I ordered what I thought it may have been: Crème Caramel. But no, that was nasty.

DD got to meet the Princesses: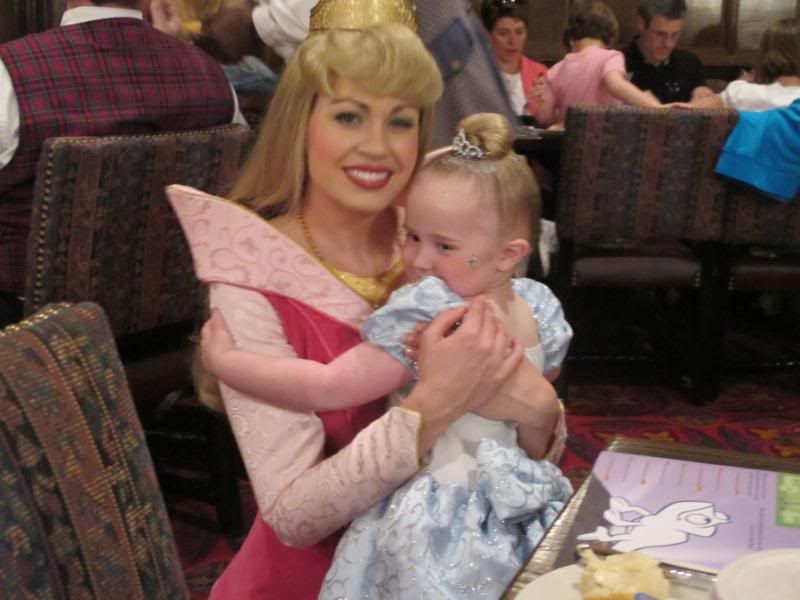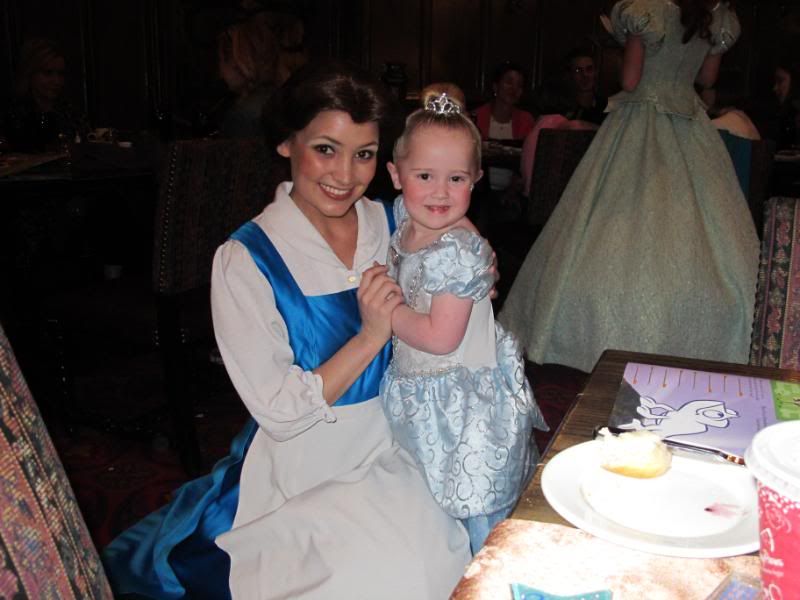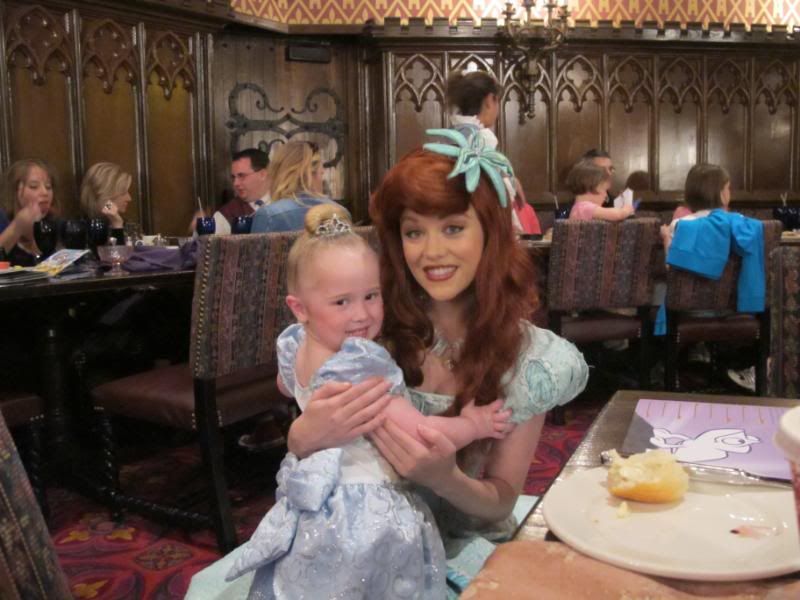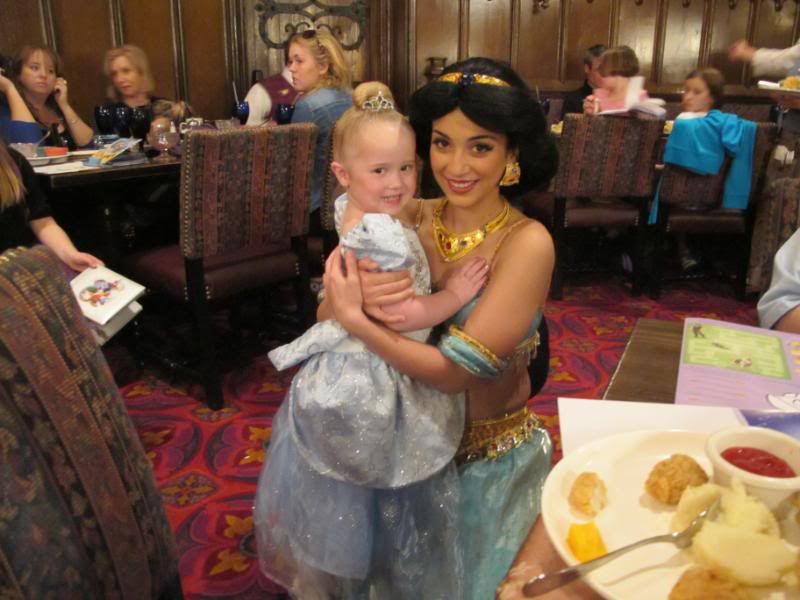 After dinner, they were getting ready to start the new "Magic, Memories, and You" show where they project images on the castle before the Wishes fireworks show, but DD was tired. So we made our way out of the park to the monorail, TTC, walked to the van, then loaded up and drove back to the condo. I figured we would watch that show and the fireworks at one of the other MK days.

It turned out to be a great day, highlighted by the Magical Moment DD had with Cinderella. I thought it was so neat that Cinderella took some time to talk with her and make her feel so special. Cinderella even remembered DD's name when we were leaving from dinner – and that was almost two hours from when we went in. This is why we love Disney so much!

Up next: From Magical Moment to possible head trauma? Excitement around every corner!
Chapter 4: It's all fun and games until someone gets a concussion.
---
January 30, 2011 – Day 3 (Epcot Day)

After our great day at the Magic Kingdom, we were all ready for some rest – especially me. DD fell asleep in the van on the drive back to the condo, as did DS. DW was nodding off a few times, too. After only getting about five hours of sleep for two nights in a row, I was due for a decent night's sleep, too. I was in bed by 10pm and a nice, blissful night was ours. I woke up refreshed and renewed after a long eight hour sleep. I was ready for Epcot!

The alarm clock woke me, but not as rudely as the previous morning. I knew Epcot wouldn't be overly crowded today, so I figured we could sleep in a bit and not worry about making rope drop today. I woke up the crew and we all got ready for our Epcot Extravaganza. If you did not read my Pre-Trip Report, I will give a little explanation of the matching shirts. I customize (or modify) different designs using Photo Shop, print them out on excellent iron-on transfer paper (from amymickey.com) and iron on to cheap colored blank t-shirts (I get mine from jiffyshirts.com.) Today, as you will see in the photos, is the lime green shirts with the Toy Story Alien Mickey heads. I was sold on the idea of matching shirts after reading a trip report a few years ago that talked about how it is easy not to get split up if everyone is wearing the same color shirt. It also, in my opinion, makes the PhotoPass photos of all of us together look better than us wearing all different stuff.
We ate bagels and cream cheese in the condo for breakfast before we left for the day(DD had her Crispix cereal she loves.) We were out the door around 9:00am. We arrived at Epcot at 9:15am. Here are the kids ready to start touring Epcot.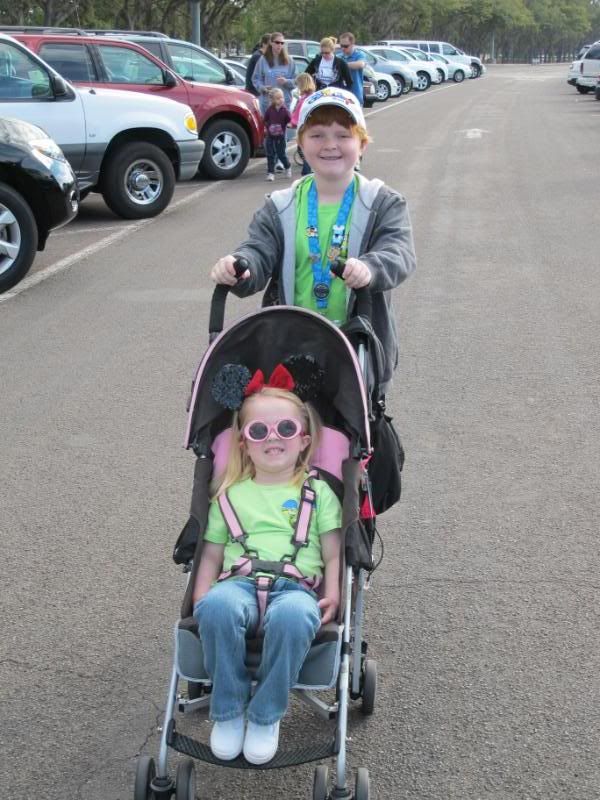 Even though the park was already open, we didn't have to park too far back. Here is the distance from our parking row to the gates: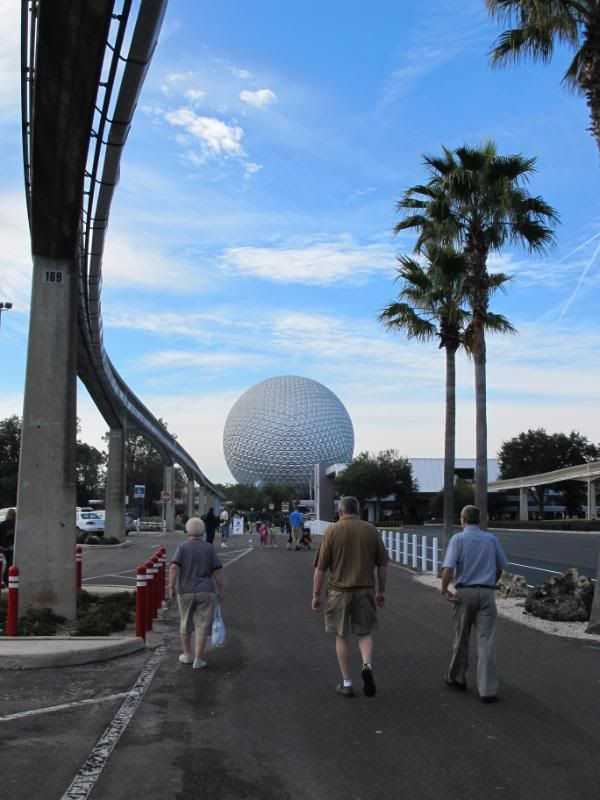 We got in the park and DW took DD to the Character Spot for the meet and greets, while DS and I got FastPasses for Soarin' and then went to Innoventions.



DS and I did the "Don't Waste It" recycling edutainment (fun and educational!) and DW and DD met us in Innoventions. We did some of the other fun stuff in there, and we picked up our Kim Possible Mission tickets for Norway. We then made our way to the World Showcase since DD was getting hungry, but not before stopping to buy the Epcot passports for the kids. It turns out she didn't eat her cereal this morning after all, so she was getting very cranky. We went to China and DD had Sweet and Sour Chicken from the Lotus Blossom Café. DS got egg rolls and they both enjoyed their food. I tasted some of each and they were both pretty tasty. Here is a picture of DD eating actual food (besides popcorn or candy) at the parks:



The kids did the KidCot area in China and we looked around. Here is inside the dome in China, looking straight up (I forget the name of the building):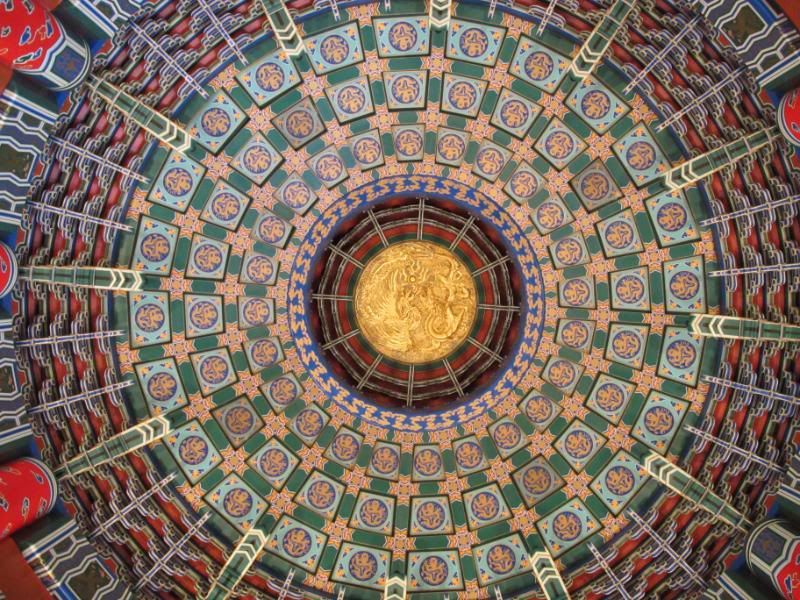 DW and DD decided to go try to see some of the princesses in their respective countries while DS and I did some Kim Possible missions. It turns out the girls were able to get a few princess meets: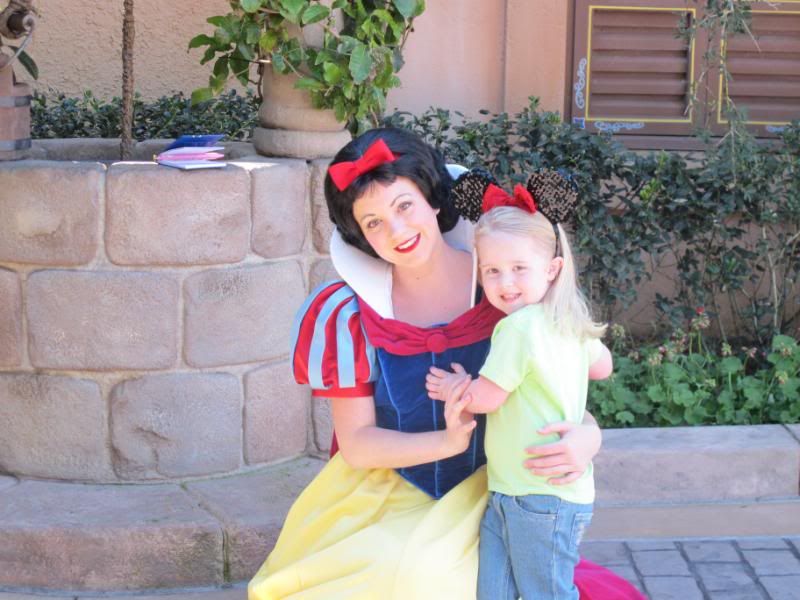 DS and I went undercover and covertly completed KP missions in China and Germany before we met up with the girls to head over to our late lunch. We hopped on the friendship boats from Germany and rode to the World Showcase entrance towards the country where we would eat. For those of you who read my Pre-Trip Report, I can now reveal that I was able to get my most coveted ADR! It was at 2:30pm for lunch. Here are some pics: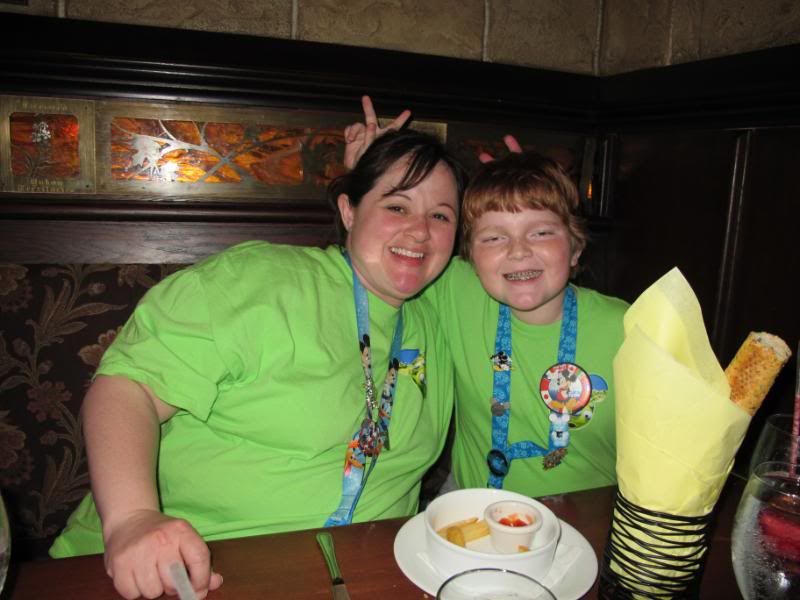 Yes, that was Le Cellier! I was able to get my favorite 3-course meal: Cheddar Cheese Soup (with Pretzel Breadsticks), Mushroom Filet with Risotto, and the Maple Crème Brulee. Man, I love that meal. I would plan a trip to WDW just to go to Le Cellier for that meal. Maybe I need to start looking for a job in the Orlando area so we can move closer to Le Cellier!

OK, back to the report. After lunch we watched the Oh Canada 360 degree film. This was our first time to see this – pretty neat. The kids did the KidCot there and then we decided to see Nemo and Crush back in the Future World section at the Seas Pavilion. After that, we went to the Land pavilion and rode Living with the Land – our first time on that one. It has some neat information and I recommend this ride. It not exciting, but an overall good experience. We then went to Sunshine Seasons for a drink and snack. This is where it all happened.

DW and I sat in chairs at a table that shares one side with the padded bench. The kids sat on the 'booth' side. We were having a good time after our snacks and the kids were playing around and tickling each other in the booth. We thought they were doing fine since they weren't being loud and they were having a ball. Then, as the kids each leaned back and were squirming around on the bench, DD fell off the bench and landed on the back of her head… then tumbled onto the floor. A parent knows the difference when their child is crying because they are frightened by a fall, embarrassed by a fall, or really hurt from a fall. This was the really hurt cry. Actually, it was the dreaded REALLY hurt cry – the one most people don't hear all that often. It is the one where your heart skips a beat, then races – as if to catch up for skipping that beat. Everything seems to be in slow motion for a split second while you immediately jump to their aid. We helped her up and tried to calm her down while we both frantically tried to assess the situation.

Are you OK? Where does it hurt? She pointed at the back of her head. I felt lightly and could feel a bump back there. Immediately a cast member was there checking to see if she was OK. I wish I could remember his name… we will call him David (because I think that may be his name.) He offered to call an EMT over, since they are stationed in the park. I agreed – I was worried she may have suffered a concussion. David used his radio and called for EMT response. While we were waiting for them, he went and got a plastic bag with ice in it. We held the ice on the swelling and she said that made it feel better.

Another CM showed up in a few minutes – apparently a manager of some type. He was very empathetic and chatted with us while we waited for the EMT. David talked with DS and kept him occupied and in good spirits. He also offered any food or drink we may want while we were waiting - a nice offer, but we politely declined. We knew it was absolutely no fault of Disney that DD got hurt. The kids were playing and had an accident. It could happen anywhere. We expressed our love of Disney and how this would not change that – it was just an accident. The EMT showed up and was informed of the incident. They spoke with DW and got our information. The other EMT checked out DD. There were no immediate signs of a concussion, but offered to take us to the local hospital for any tests or x-rays (at their expense.) We declined, because we felt confident in his initial diagnosis. He told us what to watch for (other signs of a concussion) and said we needed to keep her awake for another 4 hours and to keep a close eye on her for any other signs. Otherwise, she should be fine. He gave us an instant coldpak for her head. She was already feeling better by now.

In addition, DS was talking with David during all of this. Looking back, this was a great thing while we were busy attending to DD. (I wonder if they are trained to do that in a similar situation?) They talked about pin collecting. DS likes the Stitch, Star Wars, Tron, and other pins like that. He also had been trying to trade a Happy Birthday pin we got him for his Birthday trip last year. We said he couldn't trade that one, but to pick another to trade for a Stitch pin he liked of David's. Well, David ended up giving him the pin without trading for it. It was just something little, but DS thought that was so cool. Kudos to Disney for the way they handled everything. I was actually kind of embarrassed in a way – because it was my kids' fault for playing around on the bench in the first place.

So now we have the nearly impossible task of keeping DD awake until 9pm – and she did not take a nap today. We decide to go get a few souvenirs from Mouse Gear and then walk around World Showcase. I figured we would watch Illuminations at 9pm and then go home. Within a few hours of touring the World Showcase, DD was getting really tired. We ended up having a counter service meal at Tangerine Café in Morocco. I had the shwarma combo platter (lamb and chicken.)



It was pretty good stuff, but not quite as good as the shwarmas I had in Saudi Arabia back when I was in the Air Force. Now those were some good food! But I digress.

By the time we finished dinner, DD just could not stay awake. She made it over 3 hours with no signs of a concussion and she was exhausted, so we let her sleep in her stroller. We left for the day and made it to the van when the fireworks started. I hope we would get a chance to watch Illuminations (for the first time) when we come back to Epcot in a few days.

Up next: The Wizarding World and Seussland – can Universal compare to Disney?
Chapter 5: The Wizarding World – where wonders will willingly wake weary wanderers
---
January 31, 2011 – Day 4 (Universal Islands of Adventure Day)

I really wanted to leave the condo at 8:00am to ensure we could be at the Islands of Adventure gates before they opened at 9:00am. This was one of my most worrisome mornings, since we had been late to all the other rope drops. We almost made my departure goal, for a change. We were parked by 8:55am, but DW needed to stop at the Cinnabon shop at Universal CityWalk on the way to the park entrance for breakfast – she was rushed to leave the condo for some strange, unknown reason. (Hi, I'm strange and unknown BTW, nice to meet ya.) We were at the gates around 9:15am. Crap! I was sure the Wizarding World would be full by now, considering people staying at a Universal hotel were able to enter at 8am. Hopefully the wait for The Forbidden Journey wouldn't be too bad by the time we got there.

We quickly slithered our way past Seussland and The Lost Continent to make our way to the back portion of the park where the Harry Potter area was. It was hard telling DS that she would have to wait for Seussland until after Wizarding World – you know how little ones are. She saw the way Seussland looked and just had to stop and see it all. I explained to her we would be back really soon after we went to the Harry Potter section. When she heard the words 'Harry Potter' she immediately changed her mind. She was now fine with coming back a little later. (Ah, I have raised her right!)We made it to Hogsmeade and I was surprised that it didn't look more crowded.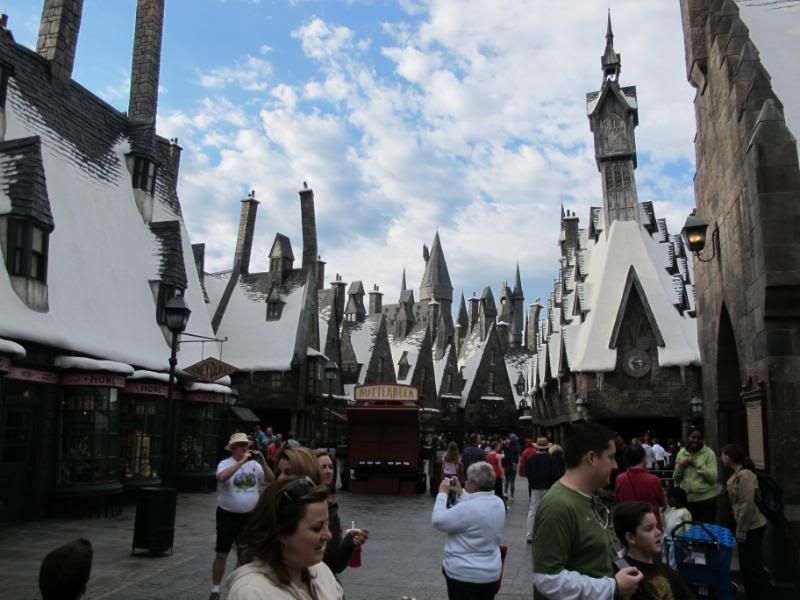 The kids posed for a picture with the conductor of the Hogwarts Express.



We then made our way over towards the Hogwarts castle to ride The Forbidden Journey. When we got there, I had to get a picture of the wait time at 9:23am: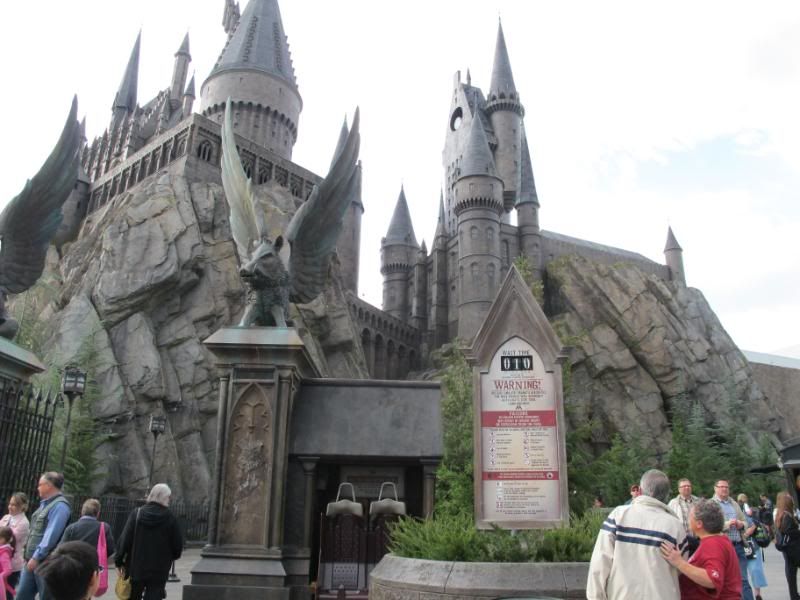 10 minute wait for what has been considered one of the best theme park rides ever! We made our way in and I was giddy as a school child. The strange thing about this queue – it appeared to be backed up a bit with a wait in the greenhouse area outside. Once we made it to the actual door to the inside of the castle, it was walk-on. But the bad thing about that (yes, I was a little disappointed that we rushed in to the ride) was that you couldn't just look around and enjoy the paintings that talk and move and some of the other great themed stuff they had inside. We slowed down a few times to take it in, but there were streams of people starting to come behind us so I didn't want to back up the line. Keep it moving! There's nothing to see here… keep it moving! (But there was actually PLENTY to see.) Once we got to the loading area, we informed the person that worked there that we were doing a child swap. I let DW ride first (DS got scared and decided not to ride.) We waited in a room that had several benches along the walls to sit down and a flat panel TV playing parts of the Harry Potter movies. When DW returned it was my turn! I tried to ask DS to ride with me, but he declined. Looking back, I am glad he ended up not riding – I know him too well and he would have been terrified.

Wow!

THE. BEST. ATTRACTION. EVER! I had a huge smile on my face the entire ride! Universal really hit a grand slam homerun with this one! Anyone going to Disney World – you MUST go to Universal, even if only to ride this one ride! And remember - this is coming from a self-confessed Disneyholic! (Should I put more exclamation marks to emphasize the excitement?!)
!!!!!!!!!!!!!!!!!!!!!!!!!!!!!!!!

We met back up and browsed the store at the exit of the attraction and I got a picture of DS in front of Hogwarts: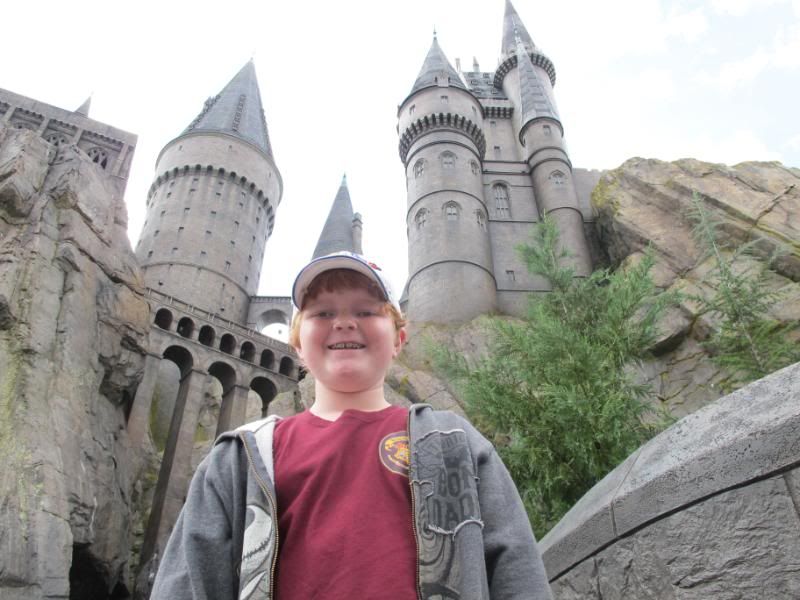 Then we went over to ride Flight of the Hippogriff. The queue had some nice details including Hagrid's Hut:



I would equate that rollercoaster to a Goofy's Barnstormer on steroids. It was faster and exerted more g-forces on you than the relatively tame Barnstormer. DD usually giggles the whole time through Barnstormer. She was a little timid during this one. She said she really liked it and wanted to ride it again, but I could tell she didn't like it nearly as much as Barnstormer.

After riding Buckbeak, we made our way over to the line for Olivander's Wand Shop. The line looked kind of long, but the UM (Universal Member) said it would be about a 25 minute wait. He was pretty accurate with that assessment. I think it actually was a 22 minute wait, all be told. I snapped a few pictures of Hogwarts Castle while waiting in said line.



DS used his money he had been saving to get his own wand that he picked out. I don't have a picture of it right now, but it is cool. It has a skull at the hilt of it – kind of Knockturn Alley-ish. Then we stopped in to the Hog's Head for some Butterbeers:



Mmmm. Those are good! It is like a cream soda with a foamy head that tasted like a butterscotch whipped cream. We bought them in souvenir mugs so we could remember our trip. (You thought Disney was expensive? Try $10.50 each – and they don't have alcohol in them!)

We then walked through HoneyDukes Sweetshop: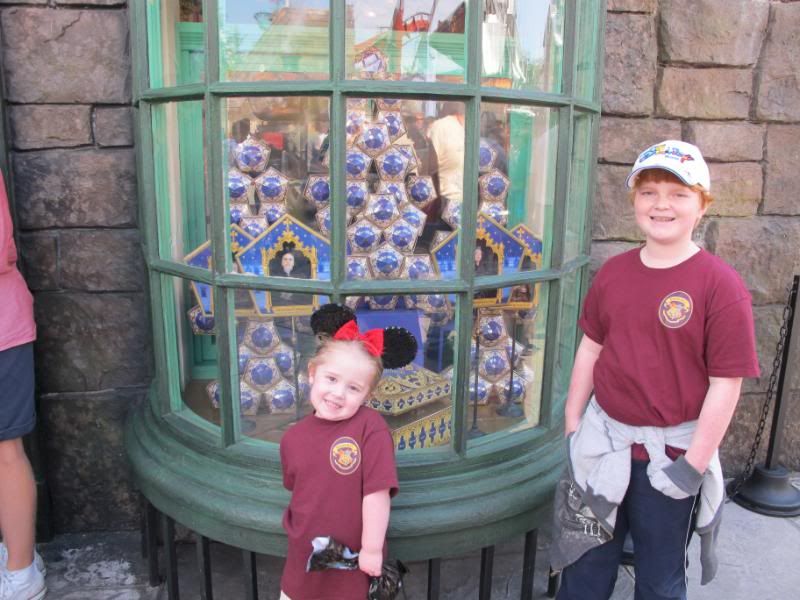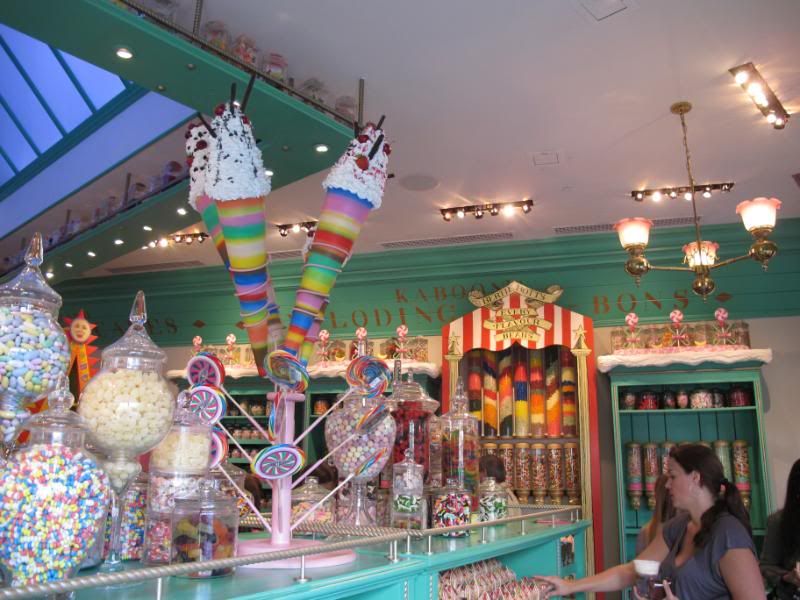 Zonko's Joke Shop was next. Here is a gag gift I just had to get a picture of: (You DISdads Club guys should really enjoy this one)



We then said farewell to The Wizarding World, we still had more of the park to explore!

Up Next: The rest of Islands of Adventure and a Disney vs. Universal comparison
Chapter 6: Islands and Africa
---
We left Hogsmeade and walked through The Lost Continent area of the park to get to Seuss Landing. I have to give some props to Universal for the really great theming they accomplish throughout the park. Actually, I guess they already have plenty of props – and that is why the theming works so well. So I give accolades instead. Yeah, accolades… that's the ticket. Wait, where was I? Oh yeah – walking through The Lost Continent. This area of the park houses the restaurant Mythos – consistently named best theme park restaurant for something like 6 years straight or some nonsense. I wanted to try it for lunch, but when DW saw the burger was $12… well, I'll just say we ate somewhere else. But the outside of it is like a rock mountain with stuff carved into it. Looks really cool… here is a picture: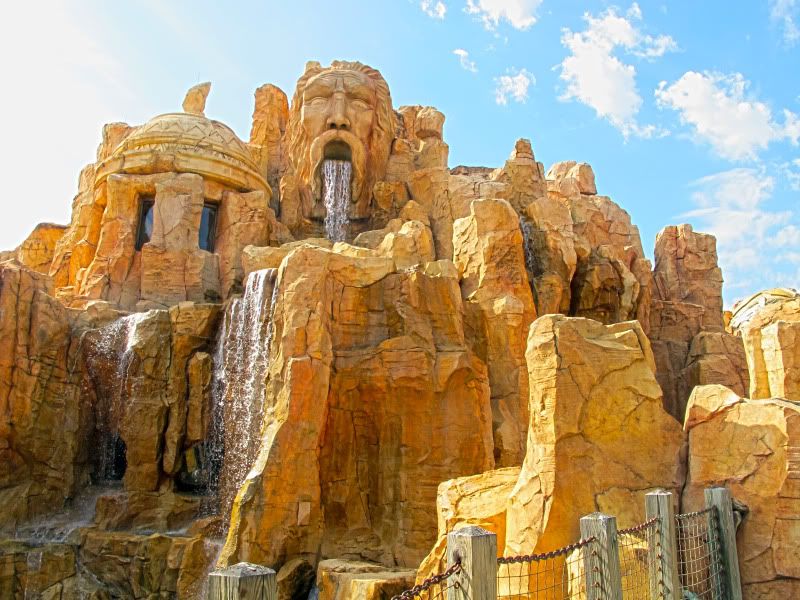 We made our way over to the Dr Seuss-inspired land named, appropriately, Seuss Landing. The colors and architecture here are also really great stuff. We first rode the sky tram thingie-ma-bob named High In The Sky Seuss Trolley Train Ride (sounds like a name I would come up with.) Think Tomorrowland Transit Authority PeopleMover with a kid theme. It stretches, twists, and turns through all of Seussland overhead. Next we went to the carousel – The Caro-Seuss-El.



By now it was lunch time, so we went to the big top: The Circus McGurkus Café.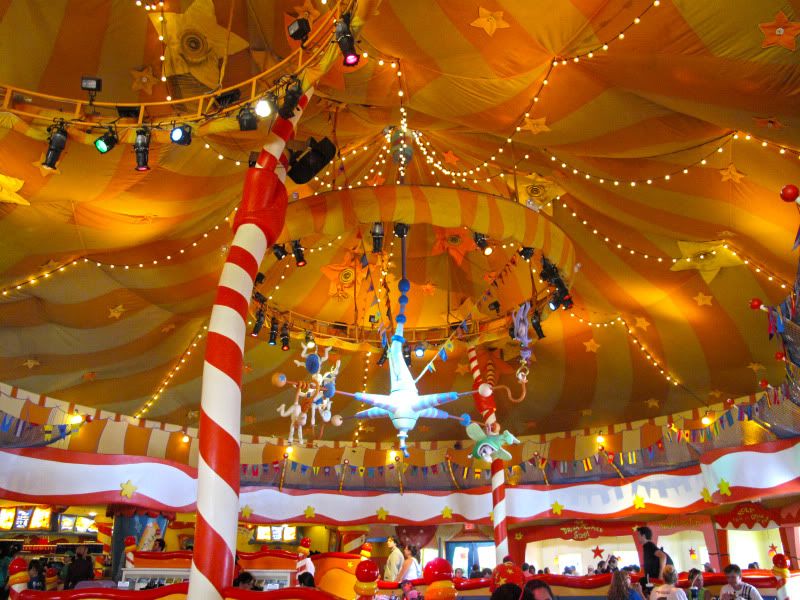 I had the fried chicken… not too bad. DS had the pizza and I tasted it. It was one of the better theme park pizzas I have tasted - much better than the kids pizza at Disney. It almost pains me to admit Universal does some stuff better than Disney – a pain similar to me admitting the iPad is actually a cool device.

The kids posed on the way out of Circus McGurkus:



We then went over to ride One Fish, Two Fish, Red Fish, Blue Fish. This is like the Magic Carpets of Aladdin ride, but you get a little (or a lot) wet from the fish spewing water, strategically placed around the edges of the ride. And just when you think you are getting away from the water at the lower level by flying high – they have some surprises in store for you up there, too. Fun ride. The kids loved it. We then went to ride The Cat in the Hat. This is like a Many Adventures of Pooh or a Snow White's Scary Adventures, but longer. The kids had to ride this one twice before we were allowed to leave Seuss Landing.

DD was getting tired, so we decided we would leave after I got to ride The Amazing Spiderman. We actually talked DS in to riding this one – a major accomplishment. I had heard so many great things about this ride - and it was a great ride, don't get me wrong – but if you are going to come to Islands of Adventure please ride this before you ride Harry Potter and the Forbidden Journey. The Forbidden Journey puts all other interactive dark rides to shame. I think I would have thought much more highly of Spiderman if I had not been spoiled by The Greatest Theme Park Ride On The Planet. (Yes – again, it is that good!)

I will break down the Universal vs. Disney comparison using terminology of my favorite sport - baseball. If Six Flags is the minor league AA ballplayer, then Universal is an everyday Major Leaguer (maybe even an All-Star.) Disney, however, is the Major League first-ballot Hall of Famer. They have both made it to 'the show', which - in itself – proves how good they are. But there is clearly a difference in the two, even at that high level. Universal hit a Grand Slam with Harry Potter and the Forbidden Journey. But a Grand Slam does not a Hall of Famer make. I can't wait for Disney to make a ride with the Kuka Robocoaster technology – if they even will. There is so much potential for that kind of technology using the Disney license.

So we finished Universal and ended up going over to Animal Kingdom Lodge for our dinner ADR at Boma. Something I learned about (and tested this night) was that the resorts offer free valet parking when you have the Tables in Wonderland card and have an ADR at a restaurant in that resort. Pull up at the lobby entrance and get curbside valet service – frakking cool. (Did you geeks get that reference?) On to the restaurant: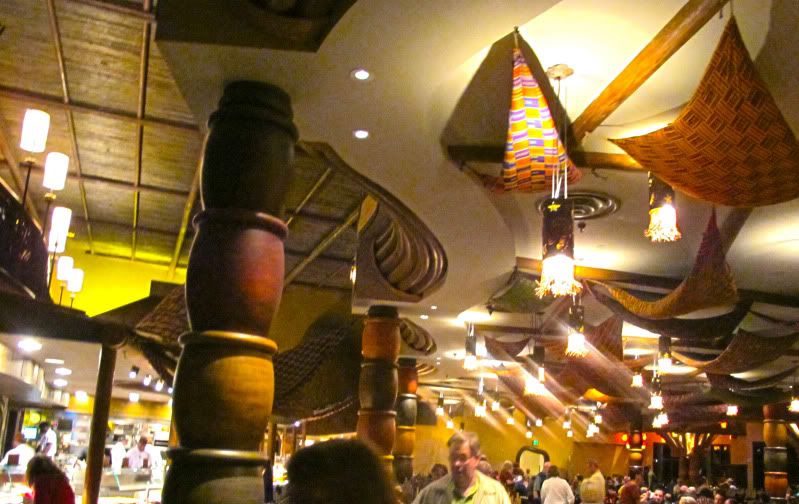 We had a really good meal – as usual at Boma. I love the soups – they are souper! We were seated near the windows and it was kind of dark in there, but that may have been like a Jedi mind trick – causing the kids to not be too loud since it wasn't real bright. Darkness usually seems to evoke memories of the movies or bedtime – times when you should be quiet. Disney may be on to something there – or I could be over analyzing that way too much and made a coincidental connection. Either way, dinner was nice.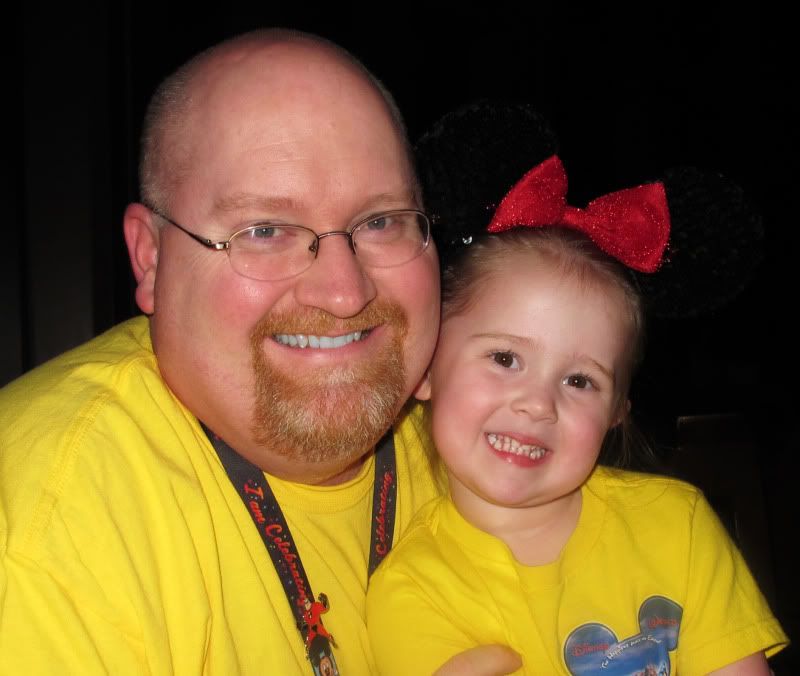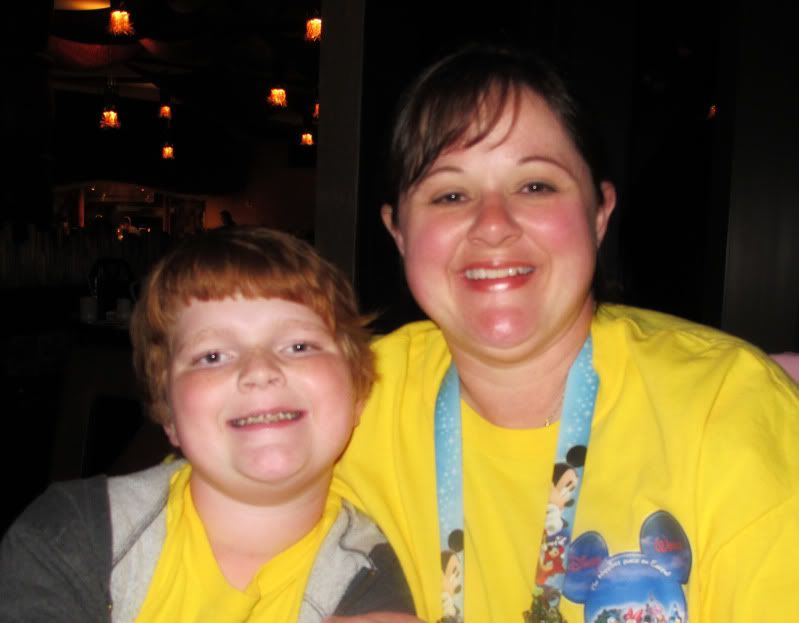 After we were filled to capacity and on the brink of supernova if another crumb crossed the mouth-based boundary, we waddled out to get our vehicle. I tipped the guy a fin and we were off to the condo. Needless to say, the kids drifted off to Neverland on the way. I dropped off DW and the kids at the condo and made my way to Orlando International to pick up my mom (did you read my PTR?) She made it out on the last flight out of DFW to Orlando before the ice storms made their way there the next day.

Next chapter: Diners, Drive-Ins, and Drives
Chapter 7: Diners, Drive-Ins, and Drives
---
February 1, 2011 – Day 5 (Hollywood Studios Day)

After I had picked my mom up at the airport and went back to the condo, it was then nearing midnight. Needless to say, the kids… well, if it was needless to say, I guess I don't even need to say it then, huh? What? You can't read my mind? Sheesh. OK – even though it IS needless to say, the kids were asleep when we arrived. They would have to wait until morning to see grandma. Since we had planned on being at rope drop at Hollywood Studios in the morning, we decided to just call it a night and get some rest.

Our human alarm clock (read: DD) was up by 6:45am – so we were also, shortly thereafter. I wanted to leave the condo by 8:00am to ensure a good position for rope drop and the mad dash to the Fast Passes at Toy Story Midway Mania. I would be the FP volunteer and would get the Fast Passes while the rest of the family would get a quick breakfast at Starring Rolls.

The original plans had us near the gates at Hollywood Studios at least 15 minutes prior to rope drop. Back in the reality world: we pulled into the parking lot at 9:00am sharp. Why did I say 'sharp'? It's not like we were early...or even on time. I thought it would give the false impression we were somewhat on a proper schedule – but, as you will see, rope drop at the parks will be an unattainable goal for me for the rest of this trip (minus the 8:05am ADR at Crystal Palace on an MK day.) Luckily, since this was the slow season and we picked the least crowded parks per day – rope drop would not be such a mandatory item.

We went in the gates and I went towards the Fast Pass machines at TSMM while the family went towards Starring Rolls. I was slightly upset with our timing, so I was expecting a major line for the FPs to be stretched out to the Walt Disney: One Man's Dream (like it did during the summer when we were here.) I was pleasantly surprised to see the fast pass machines had only a two-deep wait. I snagged the passes and went to meet my family at Starring Rolls.

Here is a picture of me and mom sitting outside Starring Rolls:



After we finished getting our grub on, we went to see The Little Mermaid show followed by a visit to The Magic of Disney Animation building for character Meet N Greet for the girls. Here is DD with Sorcerer Mickey: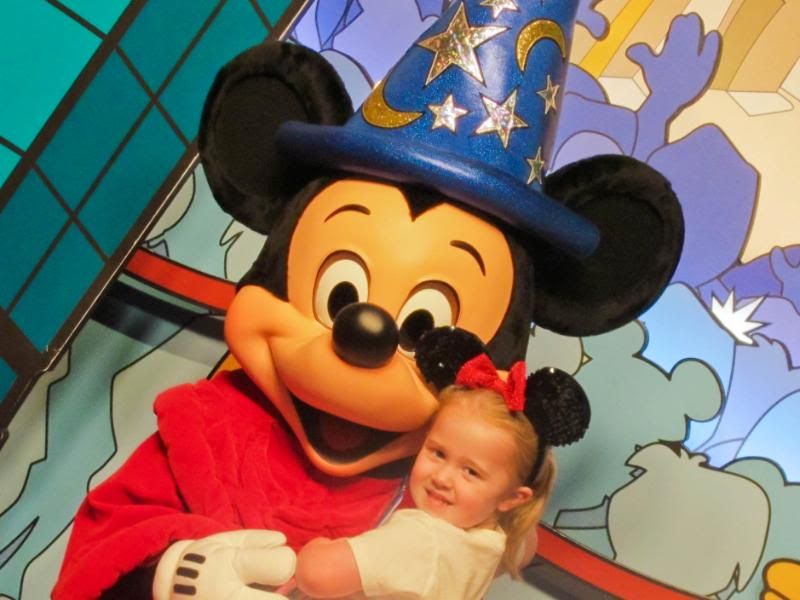 Also, there was someone working at a desk there behind the glass in one of those offices. This is the first time I have seen someone in there while we were there. Here is a pic:



While they were meetin' and greetin', DS and I did the animation class and learned to draw Dopey. DS and I both love those classes. If you haven't done them before, you really should try them out. You don't have to be a great artist to be able to draw the characters – they explain and show you with simple terms. Anyone Can Draw! Wait, isn't that supposed to be Anyone Can Cook! ? Whatever.

When we finished up, it was now time to use our Fast Passes for Toy Story. This is one of my favorite attractions. Here is DM and DS getting ready to ride: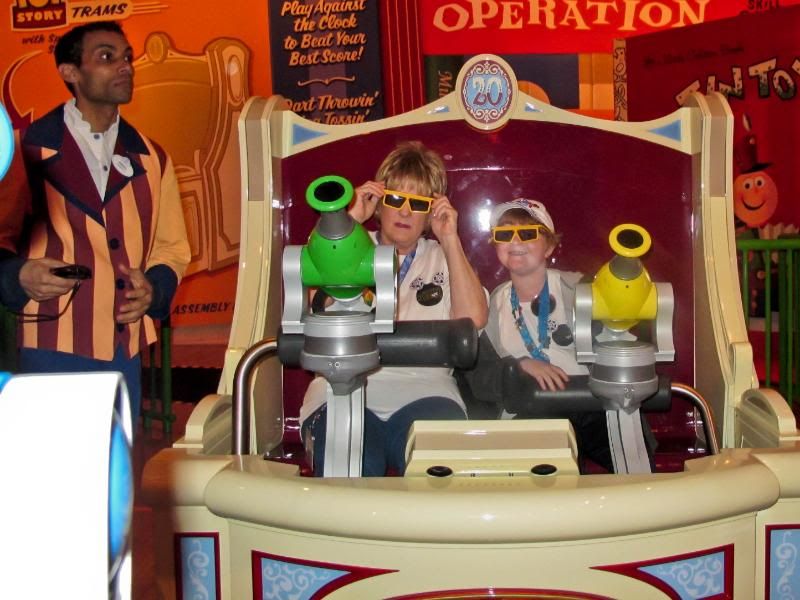 And DD and I between levels: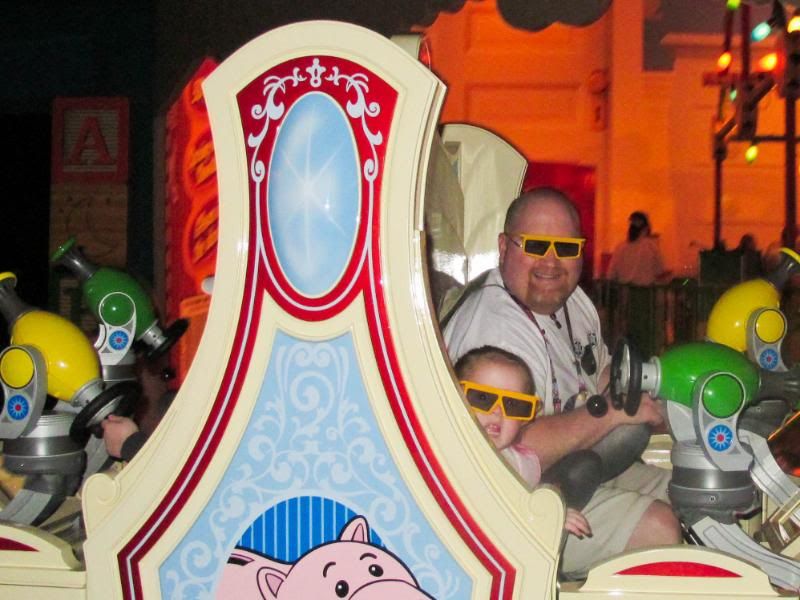 We then walked across the 'street' to the Buzz and Woody Meet n Greet building. I love the props they have in here for you to get great photo ops while waiting in the queue. Here are some of ours: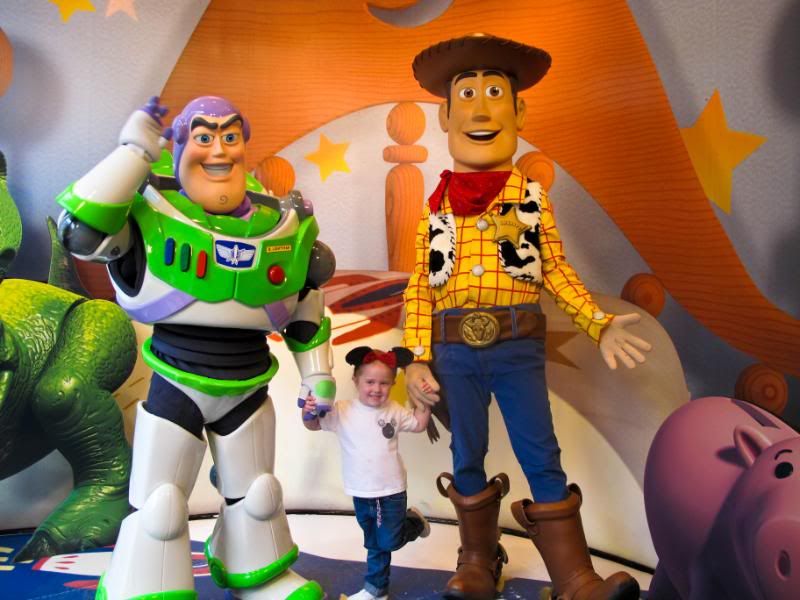 Next we walked through the Streets of America section and saw Lightning McQueen and Tow Mater. A family shot:



Next was Muppet Vision 3D. If you haven't been to this attraction for a while, you should be pleased to know that they have changed out the projector with a new digital 3D projector. The film is much cleaner and you can see much more crispness and detail (and better color.) It is worth going to see again – it almost feels brand new.

Once we finished there, it was lunch time. DD fell asleep in her stroller and we thought we might check at the 50s Prime Time Café for a walk-up (we had an ADR for 50s PTC on our next scheduled day at DHS, but with DD asleep – we thought it would be better to try it than go into the Pizza Planet for lunch.) I asked if we could bring the stroller in so DD could sleep and they said it wouldn't be a problem. I got the typical spiel from the girl who took my information, "It could be about 30 – 45 minute wait." I said that was fine. As soon as I walked out to tell DW it might be a little while, the pager went off to let us know we were ready to be seated. I expected that. They were not busy, and I heard on a PodCast (maybe WDWToday) that they will usually tell you it will be a wait since you don't have an ADR. If you end up saying that is ok, you usually get seated rather quickly (as long as it is not overly crowded.) I guess that 'test' determines if you really want to eat there or not.

Once we got to our table, DD woke up and did not want to fall back asleep. She loves that place! I do too. The food is really good and I love the sense of humor and the themeing. While waiting for our entrées, an older man at a table near us apparently got in trouble. Maybe he didn't eat his vegetables – I don't recall. But the server made him stand in the doorway with his nose against a circle on the door jamb. Here is a pic: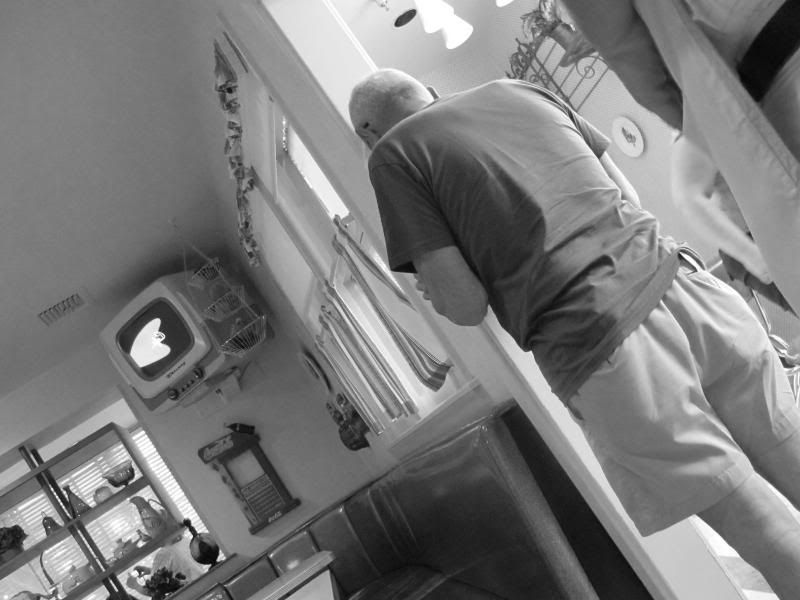 I also have some video of DS getting called out for smarting off to the waiter (all in fun, of course.) I am debating whether to post it on You Tube or not – he was quite embarrassed. The waiter made him do the "I'm a Little Teapot" routine. Funny stuff.

Anyway, we finished lunch and then strolled over to watch the new Pixar Pals Parade that was about to start. I had heard some bad reviews, but we watched it anyway. I will admit that it was not that bad. The kids loved it – especially DD: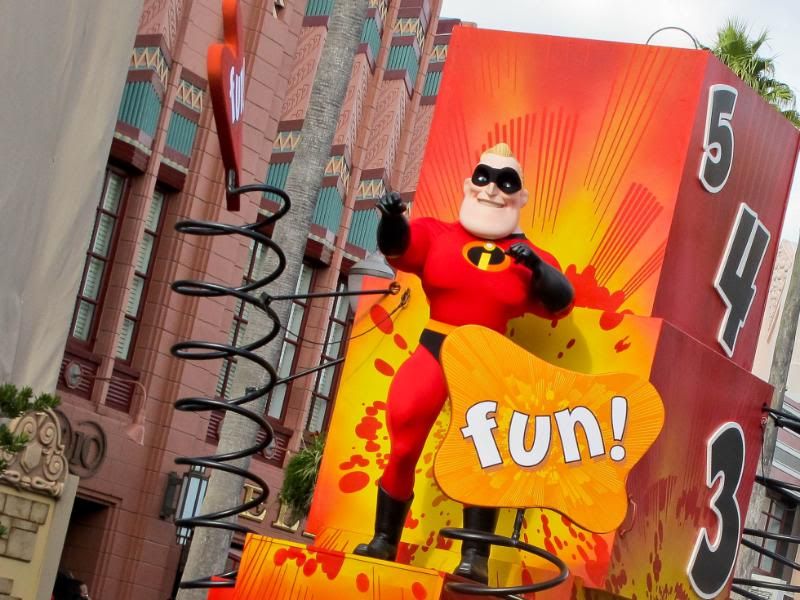 After that we made our way over to the Great Movie Ride and then it was our first time to watch the Lights, Motor, Action StuntShow. I captured this pic when the red (good guy) car was jumping between the two white trucks:




Not a bad show. Anything with fast cars, gunfire, and explosions will always garner a decent rating with me, though. We then split up again. The girls went to the Beauty and the Beast Live show, while DS and I saw the American Idol Experience. After that, we met up with the girls and we all went to the daily finale of the American Idol Experience.



After that, the park was closed and it was time to leave. We went back to the condo and cooked a frozen pizza for dinner. Then it was time to download pictures to the laptop and start getting ready for bed. Tomorrow would be an early 8:05am ADR at Crystal Palace!

Here is a picture I really like that I snapped of DM and DD walking together while heading to the Lights, Motor Action show: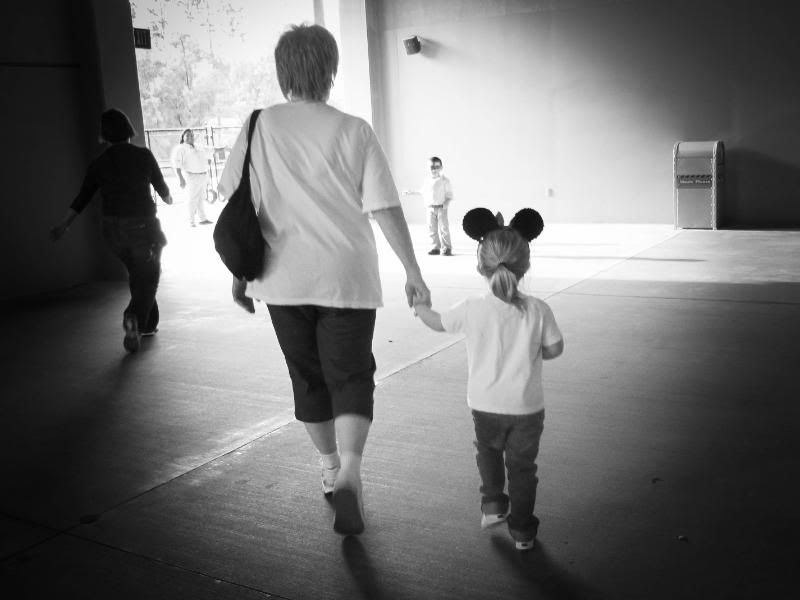 Next: Chafe and a haircut, 2 bits.
Chapter 8: Chafe and a haircut, two bits
---

February 2, 2011 – Day 6 (Magic Kingdom Day)

Since we did not stay out too late the night before, getting up early to make our 8:05am ADR at Crystal Palace wasn't too painful. We drove to the TTC and were parked and walking towards the monorail by 7:40am. We made it to the gates by 8:00am.



We quickly made our way towards the Crystal Palace, but stopped for the obligatory PhotoPass picture of the family in front of the castle. They also got a special picture with Tinkerbell.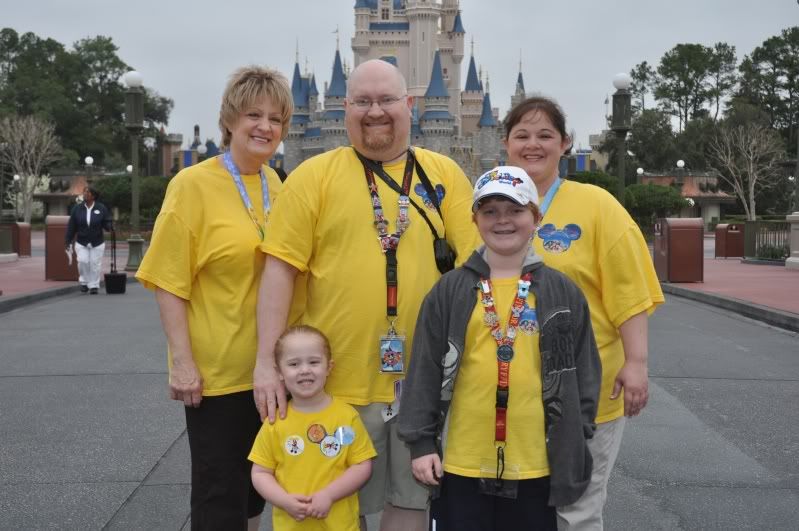 So we were a little behind for check-in and had to wait about 10 minutes for our table. This is one of my favorite places to eat breakfast – mainly because it is well within the Magic Kingdom and you can get ADRs for an hour before the park opens. The fact that they have good food and characters for the kids makes it that much better.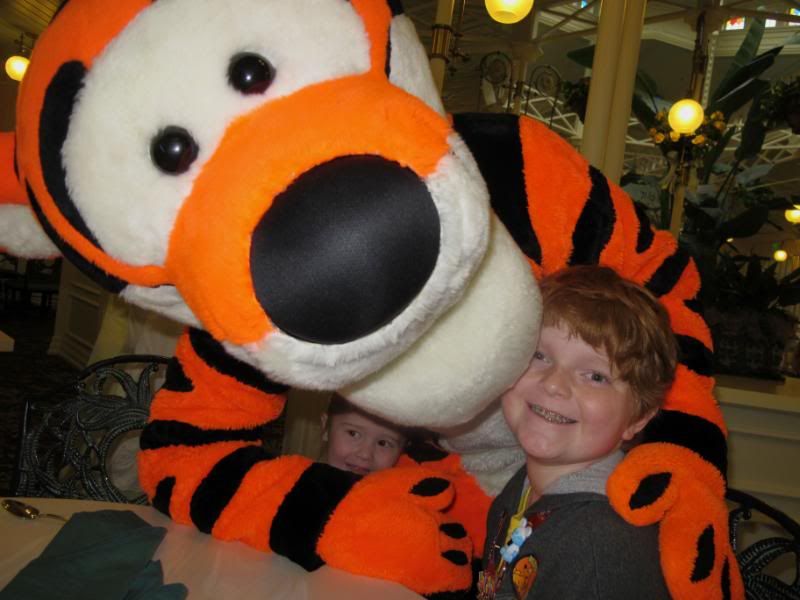 I also like the fact that you can eat your breakfast and be out of there and waiting in the 'hub' for the ropes to drop to the different lands when the park officially opens. For those of you who have never done this (or an early CRT breakfast) – you are actually inside the park before rope drop, but you cannot get beyond the hub area by the castle, because they have actual rope barriers to keep you from going into the different lands (ie. Adventureland, Fantasyland, etc.) The trick to eating and being out at the ropes before they drop is to ask for your check as soon as your server brings out your drinks. This gets the process started to get your bill paid for. Since it is a buffet, it is easy for your server to get that for you – and they know the way it works (they know you are no Doofenshmirtz if you request this early.) Pay it immediately when they bring it out and then you can finish up eating and meeting characters and then casually stroll out the door just before 9am. Most people eat and then ask for the check, and then by the time it gets settled it is past 9am. And now you know… and knowing is half the battle. Goooooooo Joe! (obscure reference from my childhood.)

Well, we didn't quite make it out the door before 9am, because we had to wait for Piglet to make his way to our table for DD before we left. This would not cause any problems, since this was predicted to be a low crowd day. Normally we are able to see all the characters before 9am, but we were not seated until close to 8:25 this time. So we finished up and left to go to Fantasyland.

We rode Dumbo first, then we walked straight on to Peter Pan's flight.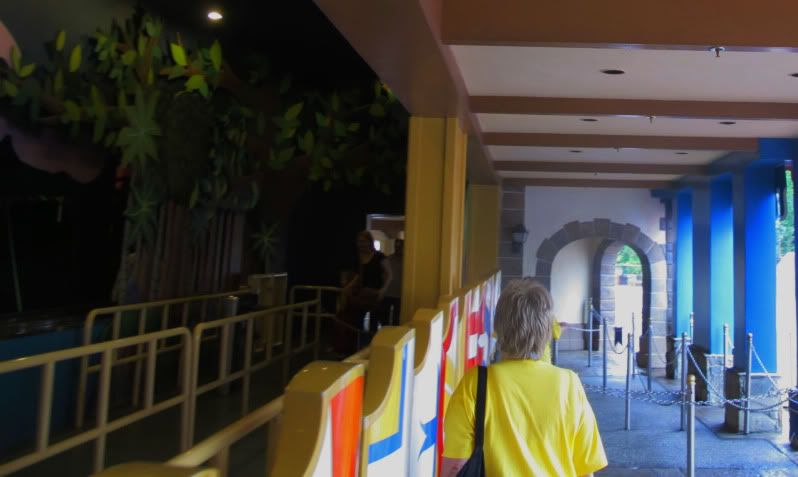 On the way over towards Snow White's Scary Adventures, DD had to stop and see her favorite character: Mary Poppins. If this was summer time, I would have tried to talk her into waiting until after we rode a few more rides to see Mary. Since we were nearly the only guests in Fantasyland (minus the lines starting to form at Dumbo) this wasn't an issue. Since no one else was waiting to see Ms. Poppins, DD got several minutes of great interactivity with Mary. Priceless.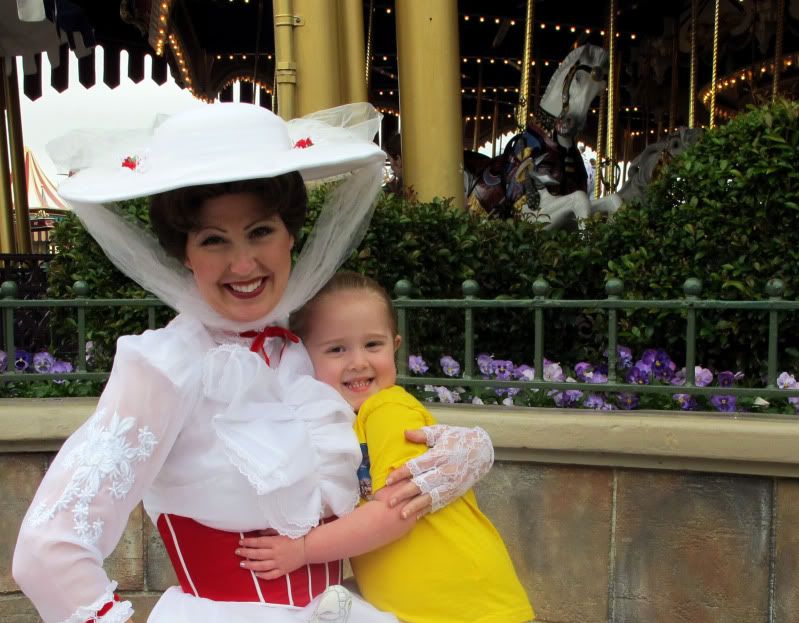 Next, we walked on to the Snow White ride with no wait - how great is Fantasyland when you do the early ADR for breakfast? The Many Adventures of Winnie the Pooh was next. The sign stated a 10 minute wait time, but it was walk-on. This meant we didn't have time to play with some of the new interactive queue items, since people were starting to come in behind us. Well, we could have… but then it would have caused that awkward situation where the people behind you are not sure if they should be nice and wait behind you, or go around you while you play – thus creating another awkward moment as they pass you wondering if we would say anything to them for 'cutting' (which we wouldn't.) So I decided to avoid that whole situation by motoring past the interactive stuff to get to the meat and potatoes of the attraction.

The Mad Tea Party was next, followed by an Alice and the White Rabbit meet.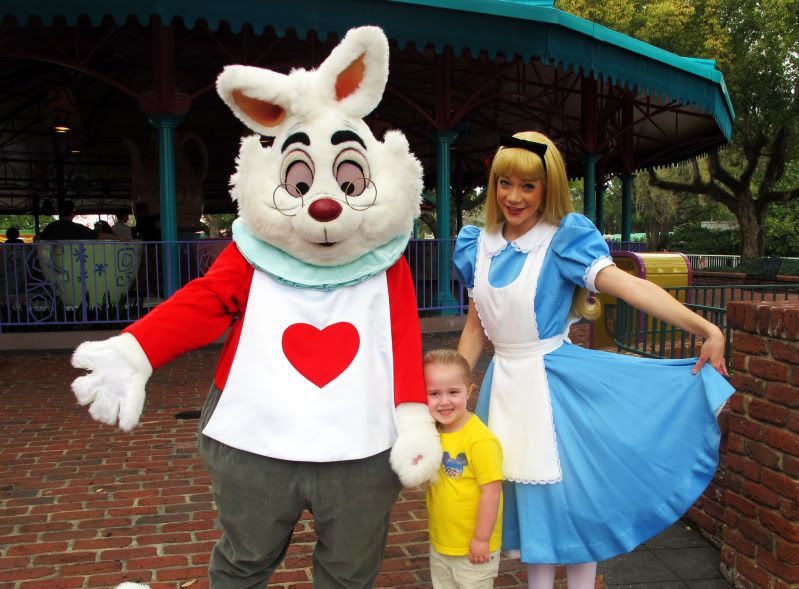 We made our way over to ride the carousel and then It's a Small World. At this point we were done with Fantasyland (minus Mickey's Philharmagic – which we would ride later.) The time was now 10:58am – we completed all of this in an hour and 45 minutes. Sweet niblets! Love that early ADR!

Now it was time to go to Toontown so DD could ride her favorite thrill ride: Goofy's Barnstormer. She had to do the Princesses Meet n Greet next and then we all went over to Pirates of the Caribbean. After that, we were getting hungry. We took the monorail over to the Contemporary resort so we could use Disney transportation to Downtown Disney. This sure beats going back to the TTC, driving to DTD, then driving back to TTC to get back to MK ASAP. OK?

We relax on the bus ride to DTD and get there around 2pm. Earl of Sandwich was then invaded by my crew. I LOVE that place – they have such great sandwiches! I always have to eat there when we go to Walt Disney World – it is on my cannot-miss-this-place-before-you-leave list. Here is the Hawaiian BBQ sandwich I had:



After eating our scrumptious sandwiches, we walked through some stores and had sundaes at the Ghirardelli Ice Cream Shop. After a while DS started complaining about his inner thighs hurting due to chafing (is that TMI?) So we caught a bus back to the Contemporary, then the monorail to the TTC so we could drive to Walgreen's to get him some powder to relieve his burning thighs. In hindsight, it may have been better to drive the van to DTD this time. But, if we had (knowing my luck), he wouldn't have had chafing and something would have occurred to require us to go back to the Magic Kingdom – making the plan of driving the van a whipping. Murphy's Law, right? Heck, they should just call it BigTex's Law – since stuff like that always seems to happen to me.

While driving to Walgreen's, DD fell asleep in the van. We decided to go back to the condo so DS could go clean up and apply his stuff to his area (you know what I mean) and the girls would drive around and let DD sleep in the van. We then drove over to the Polynesian Resort to check in for our 'Ohana ADR.

In hindsight, it may have been better to skip lunch. 'Ohana should be renamed to O' My Gawd That's a Lot of Food. Actually, I think that is what it translates to in English. I will soon have my take on 'Ohana posted as a review on the DIS Dads Club website (www.disdads.com). Speaking of shameless plugs for my other stuff on other sites – please check out our new DIS Dads PodCast. We have done our first podcast and should have the second one posted soon. It can be found here: http://disdads.com/?feed=podcast . (I hope this is allowed here… if not I will remove these links.)

This about sums up how we felt after 'Ohana:



Notice the one hand on the belly, and slouched back in the seat. We were nearly miserable from all the food. But it was so good, we just couldn't stop eating it! (Oops - so much for tempting you to read the review, huh?)

After we stuffed ourselves silly, we slowly waddled our way to the van to drive back to the condo. I literally had to move the seat back to fit my now even more humongous self-contained food storage compartment behind the steering wheel. - aka my Buddha Belly. Disney transportation to a resort would have been really nice in this situation. I was barely able to stay awake on the drive to the condo, as my digestive system was putting in some major overtime.

Up next: the next chapter (I am still thinking of a name for it.)
Chapter 9: Around the World in 80 Parsecs
---
February 3, 2011 – Day 7 (Epcot Day)

If you are going to Walt Disney World during the summer (or any crowded season), do not follow what we did this day at Epcot. We just happened to be there during the slower season and this was a park that was recommended to be at on this particular day – meaning it was predicted to have low crowds compared to the other parks. The fact that it was the lowest predicted crowds of the 4 parks, and it was the slow season – this was a match made in Valinor, as you will see.

We decided to sleep in a little this day, after stuffing ourselves silly the night before at 'Ohana. The extra rest was much needed and much appreciated. We ended up getting to the Epcot parking lot around 10:30am (the park opened at 9am this day) and we parked in the second full row from the front of the parking lot! Talk about a slow day at Epcot! We entered the park and did the unthinkable – we went straight to Spaceship Earth. Yes, we did not go straight to Soarin' for FastPasses, nor to Test Track. Spaceship Earth. The trap for the unknowing. The filter for those not well-versed in Disney park touring knowledge. I felt 'dirty' in some way going to the tourist trap straight from the gates. But I knew it wouldn't really matter that much since the park was not very busy – and the rest of the family wanted to do it first, so we did.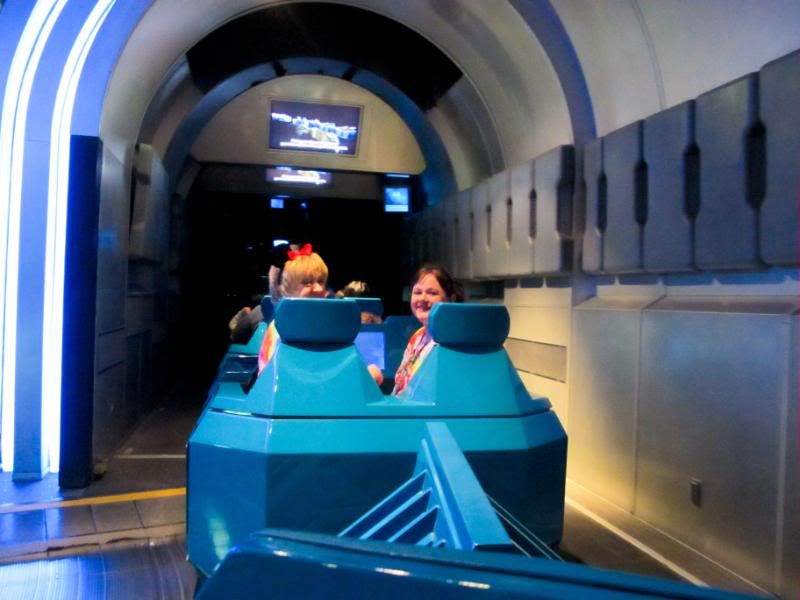 After Spaceship Earth we got back into my comfort zone and went to get Fast Passes for Soarin'. Then DS and I went over to Test Track while DW and DM took DD for some character meets. DS is a little timid when it comes to just about any ride that goes more than 10 mph and/or is a 'dark ride'. So it took plenty of convincing to get him to try Test Track. I had to ensure him that it was not a roller coaster and it was not scary at all. Finally, after bribing him with something (I think it was two vinylmations), I was able to get him to try the ride.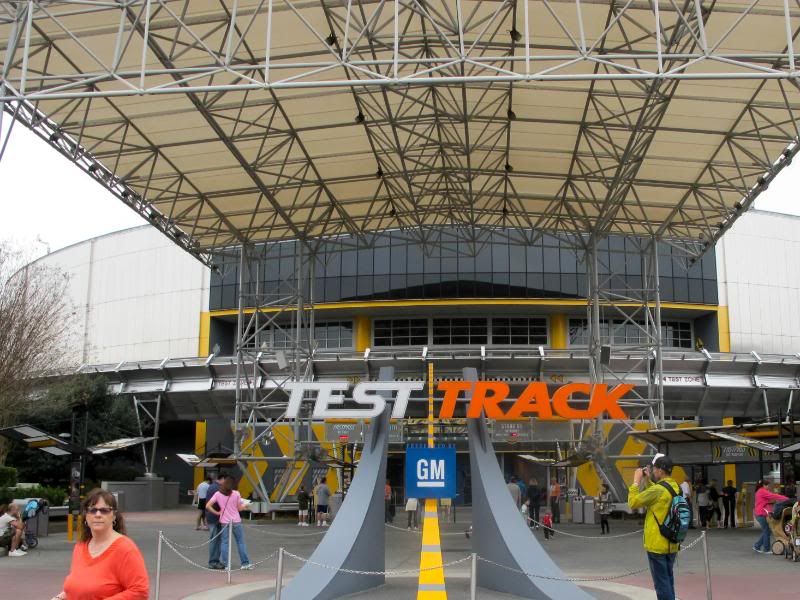 I am happy to announce that Test Track is now his favorite ride in all of Disney World. It was like him rubbing it in my face that he managed to weasel a couple vinylmations to ride his favorite ride. Sneaky. He is my son, though, so it should be expected.


We then went over to ride Mission Space (during my convincing to ride Test Track, I explained to DS that since he rides Mission Space – Test Track would be a piece of cake.) I was surprised that he would ride this and not Test Track before. Here is DS semi-nervously waiting to board our spacecraft.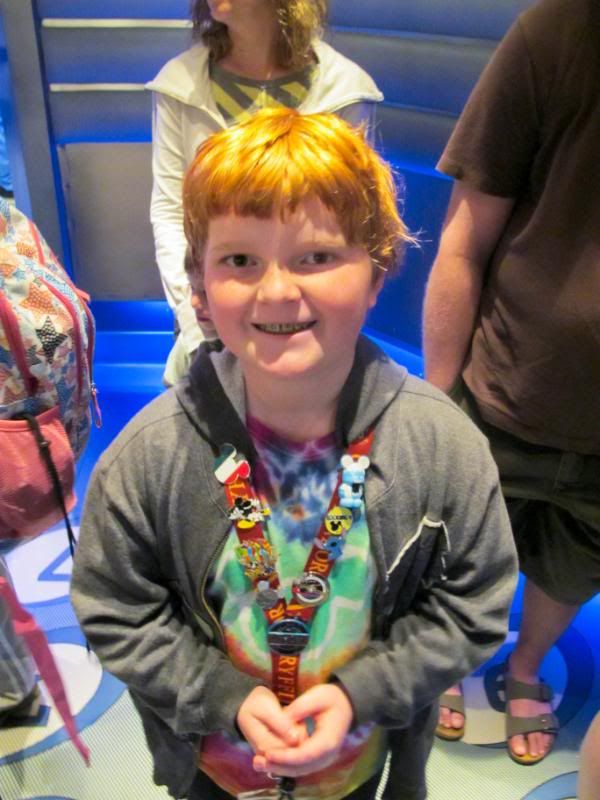 Meanwhile, back in the jungle…
The girls were having fun with some character Meet n Greets. DD got to meet Mulan, and she gave her a 'souvenir':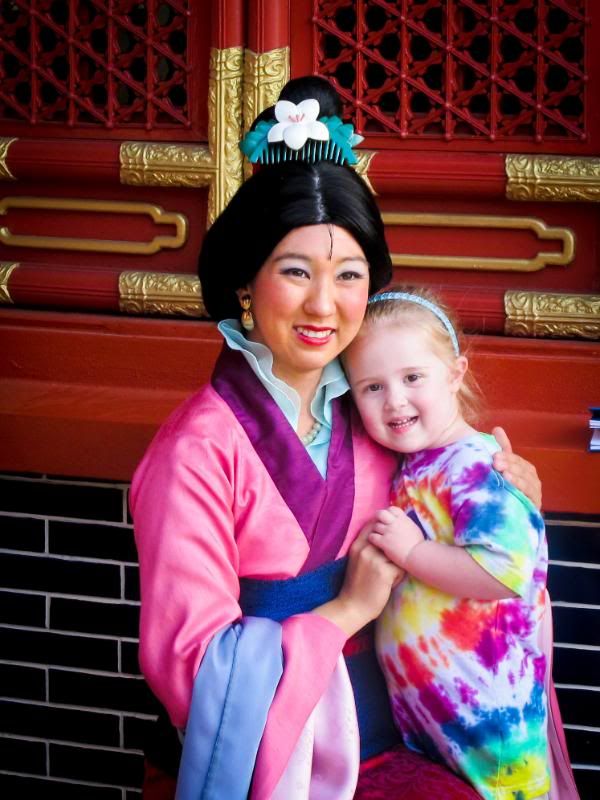 We all met up over at the Land Pavilion to ride Soarin' with our Fast Passes, then went over to catch the Turtle Talk with Crush show and found Nemo several times (no waiting…walk on.) By now it was getting close to our late lunch ADR at Biergarten, so we walked over to the Friendship Boat dock near Mexico to take the boat across the lagoon to Germany.

My whole family (including mom) loves German food, so this was a big hit. We stuffed ourselves and enjoyed the music and fun of the show. Here is a pic of mom and me inside the Beirgarten: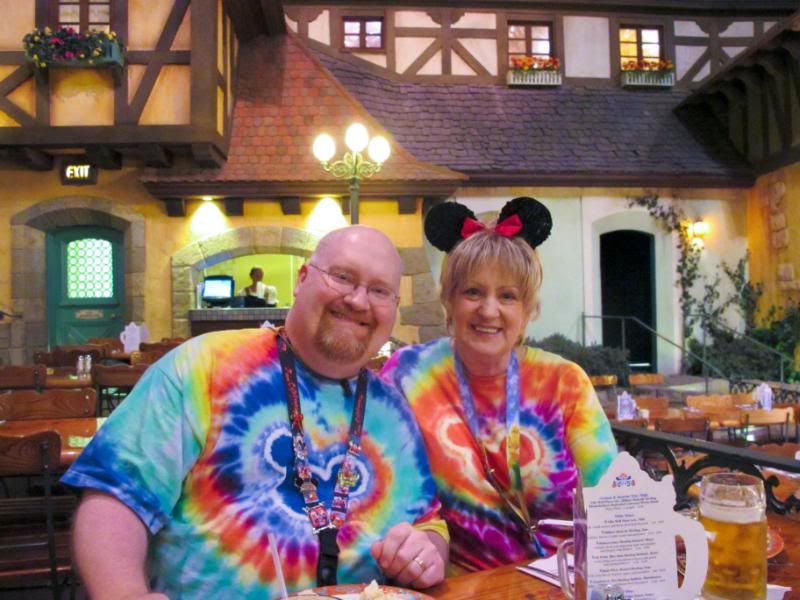 When we finished lunch, we decided to finish up the kids' Epcot passports – so we went to all the countries we didn't get to the first day. One of those countries was France – and DD got to interact with Beast for a while:



We visited the American Pavilion and were able to see the Voices of Liberty for the first time. WOW, they are amazing! I got choked up listening to their powerful performances. I can't believe I had never seen them before, and now it will be a must-see for our upcoming trips. We stayed and saw The American Adventure (also for the first time.) This was pretty good, but the pre-show was so much better that I felt a little let down by the end of the show. It is hard to follow the Voices of Liberty.

Here we are at the American Adventure Pavilion:



We then rode the indoor water ride in the Mexico pavilion several times:



Followed by several rides of the Maelstrom at the Norway Pavilion(I love that ride.) These rides at Mexico and Norway were walk-on, hence the reason we rode each several times. The kids really loved them. And I loved smelling that perfume in Norway- so much so that I bought some for DWs birthday. Just smelling her wearing that takes me to a happy place.

Another first for us: IllumiNations. This is an awesome display. The great thing about seeing this on this night – the park was not crowded at all, so we walked up to a great viewing spot a couple minutes before the show started. We watched from in front of the Germany area. I was blown away – this is my favorite fireworks show in The World now.

After IllumiNations, we made our way out of the park and a short walk to the minivan from the gates of the park. Nice. Overall, this was one of my favorite days of the trip.

Chapter 10: Allergic to Tower of Terror?
---
February 4, 2011 – Day 8 (DHS Day)

After the late night at Epcot and arriving back at the condo around 11pm the night before, we decided to sleep in a little and do yet another relaxed day. As I mentioned in the previous chapter, this is the optimal time to go to The World because the crowds are so low and the weather is so great. So showing up late (by which I mean any time after rope drop) at a park has not posed any problems crowd-wise. These parks were like a Kansas City Royals game crowd – sparse.

We arrived at DHS around 9:45am and I went to get Fast Passes for Toy Story Midway Mania while the rest of the crew went to Starring Rolls Café for breakfast. On my way back from getting the fast Passes, I was stopped by a member of the TourGuideMike forums – username Chocted - who recognized me (WOW, I got recognized at a Disney park from an online forum member – how cool is that?) She was raving about the crowd levels and how they had already rode TSMM, and RnRC, and were heading back to TSMM to use their Fast Passes for the second ride – they hit rope drop and were going crazy hitting the big rides (this is another example of how a good Touring Plan and making Rope Drop can really help make your days in the park special.) Was I a little jealous? Of course I was! If I had my way, we would be at each park 30 minutes prior to opening. But, as I said before, these crowds didn't demand rope drop to still get a lot done in the park.

After breakfast we saw Chip and Dale and let DD get her autograph book signed.



Next, it was off to Tower of Terror for my first-ever ride on it. I had the opportunity several times before, but I have this thing about drops and negative G-forces – I am allergic to them just like I am allergic to pain and bad luck. Luckily, nearly every thrill ride in the World does not have any big drops. Well, Splash Mountain has a few – but I can deal with that. But I was a nervous about ToT because these are not just drops per se- the 'drops' actually go faster than gravity pulling on you, so I wasn't sure how my 'allergies' would react to that. It turns out that I kind of liked it. I don't know if it was due to the fact that I knew the drops were controlled and 'forced' to be faster than gravity or what, but I will definitely be riding that one again on our next visit – although I wasn't ready to ride it again immediately after we finished it.

After I conquered my fear of ToT, we went over to ride one of my favorites – Rock'n Roller Coaster. I LOVE that ride! We tried to talk DS into riding it and he actually stood in line with us up until he got inside and saw the coaster do its 0-60 launch. I could see skid marks on the ground from his shoes burning rubber to get the heck outta there. At least he thought about it. Maybe I can get him to try it next time.

We then split up and DM, DS, and I went to ride the Backlot Tour while DW took DD to the Honey I Shrunk the Kids playground. Here is the canyon scene from the backlot: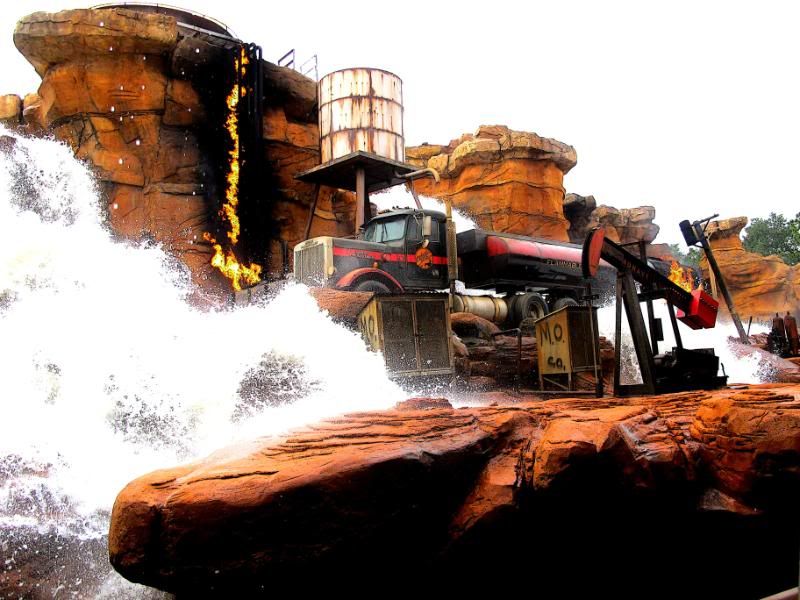 We then met up over at the playground to let DD play some more. She really loved that playground! I think that may have been her favorite thing at The World this trip.



It was nearing lunch time, so we walked over to Sci-Fi Dine-In to see if we might be able to get a walk-up reservation. The kids had fun outside the diner while waiting for a table: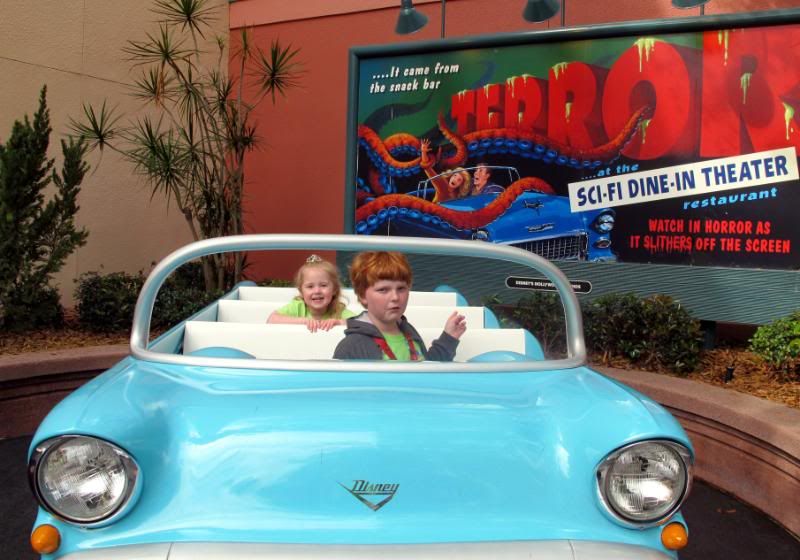 We were seated within a few minutes and the kids liked watching the old B-movie clips during lunch. I had the ribs – not too bad, but not worth the money. Overall, it was nice – but I prefer the 50s Prime Time Café because the food and service are much better over there. But I would do lunch at Sci-Fi again if I split an entrée and dessert with DW. Otherwise, I don't find it worth the money.

By the time we finished lunch, it was after our minimum time to use our Fast Passes for TSMM. So we walked over to Pixar Place and rode one of the greatest rides in Walt Disney World. I could ride that ride 20 times straight and not get tired of it. Well, who are we kidding – NOBODY could actually ride that 20 times straight because of the crowds waiting to ride it. Even with the park crowd levels really low, TSMM standby times were still over 60 minutes by the afternoon.

We decided to go watch the Indiana Jones Stunt Spectacular next. DD was getting tired, so DW took her to a shaded area outside the stunt show for her to rest in her stroller. After the show was over we went back to ride Rock'n Roller Coaster one last time for this trip.

Since DD was so tired, we felt it was a good time to leave the park. Since it actually got up into the 80s on this day we thought we would check out the pool at the condo. Wait, we didn't bring any bathing suits with us because we thought it wouldn't be warm enough to swim on this trip. Luckily for us we had a rental vehicle. A quick trip to Target solved that problem. Now that we had our swimsuits we went back to the condo and changed into them so we could relax at the pool area. The pool there was really nice and we had a great time unwinding down there.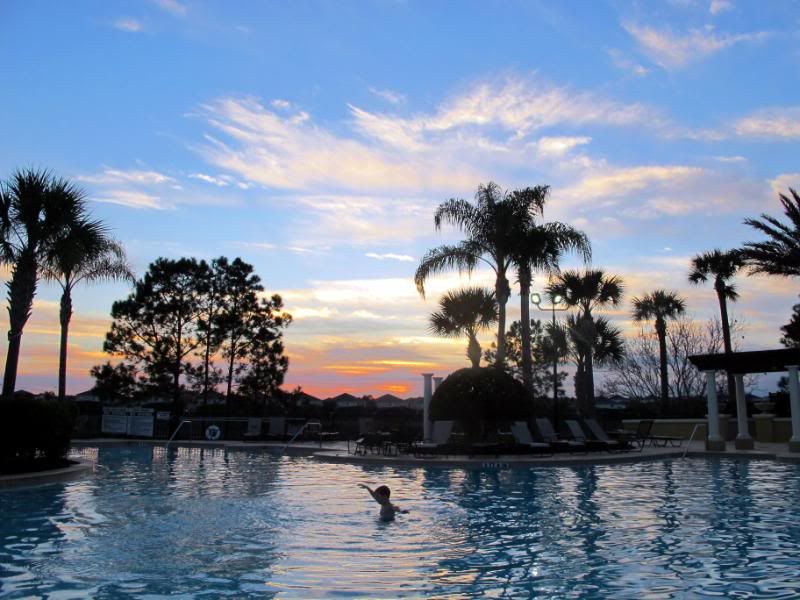 The sun was starting to set and I took a few pictures before heading back to the condo to change into some clothes for dinner.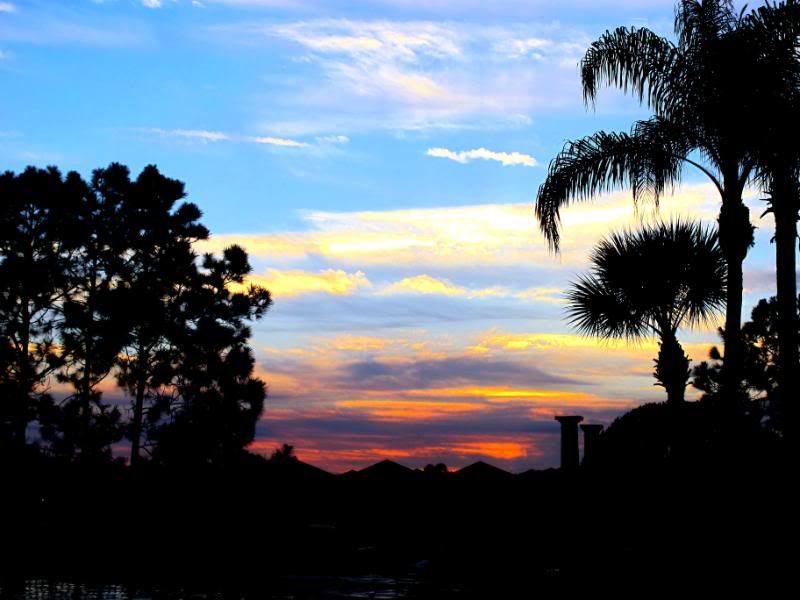 We changed clothes and went to eat at a local non-Disney place (gasp!) We went to Giordano's for some pizza. It was really good – I recommend that place for those of you with a vehicle. The pizza has a really good crust and is more of a Brooklyn style pizza, but with a thicker crust. Mmmm.

After dinner we went back to the condo to watch TV, unwind, and prepare for our last full park day at Magic Kingdom the next day.
Chapter 11: A Little Magic at Magic Kingdom
---
February 5, 2011 – Day 9 (MK Day)

This was our last full day in Orlando, so we had to visit MK one last time. I am starting to like Epcot the most, but if you have young children – there is no place on Earth like the Magic Kingdom when it comes to making kids smile. And this is all about the kiddos, so MK it is! We got up and got ready (we slept in a little again, since the crowds were not bad this time of year.) We arrived at the TTC parking lot around 9:30am and took the tram to the central TTC hub. Just before we got off the tram, DD's stomach decided it wanted to send breakfast back where it came from. Unfortunately, DD's stomach must not have realized that her shirt and shorts was not where breakfast originated. DW took her to the restrooms to try to clean her up a little. Not a good start so far.

Once we arrived at MK, we went straight to the Emporium to find DD some new threads.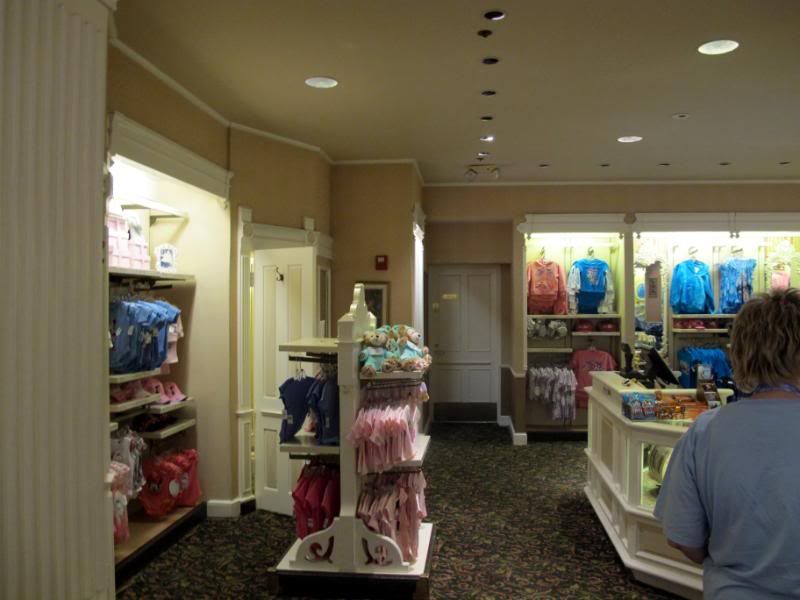 DD and DW went to meet the fairies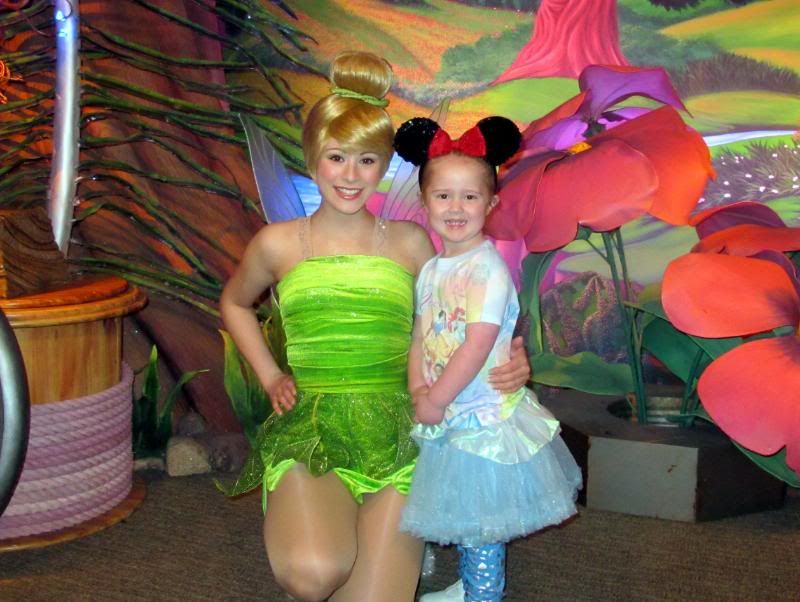 while DS, DM, and I went to ride the TTA People Mover and then the Carousel of Progress.

I know that is an old attraction, but I still like it a lot. And once you ride it, you will have that song stuck in your head until your next visit to The World. "There's a great, big, beautiful tomorrow…".

We then met up with the girls at ToonTown. We rode Goofy's Barnstormer several times to pay our respects – it is being converted to a slightly different ride for the new FantasyLand expansion – and it is one of DDs favorite rides. And since ToonTown will be gone with the new expansion, we were sure to walk around and enjoy this area for our final time. It was a little sad in a way.

Afterwards it was getting to be lunch time, so we headed over to Liberty Square for our early lunch ADR at Liberty Tree Tavern. We had dinner there the last trip and really enjoyed it, so I was looking forward to the lunch options (the dinner is a family-style fixed menu.) Lunch did not disappoint. I had the New England Pot Roast – yum! The wine and mushroom sauce was so rich and flavorful. DW had the Pilgrim's Feast (pretty much the same thing we had for dinner here last time – I knew she liked it, but I guess she REALLY liked it.) We split the Oooey Gooey Toffee Cake for dessert. WOW – that was Good Eats. By the time I remembered to pull out my camera for a picture, this is what was left: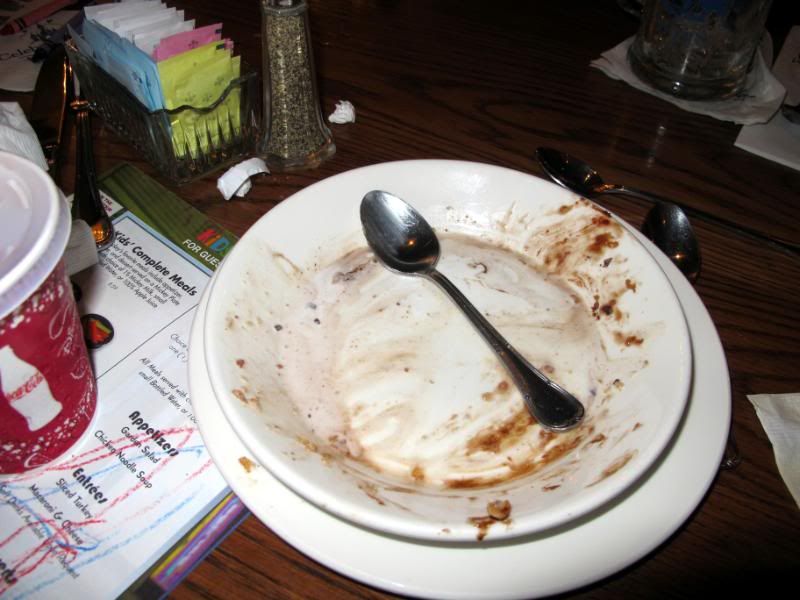 After lunch we rode Splash Mountain and then went to one of my favorite attractions:



Then we decided to see the Country Bear Jamboree – since we had never seen it before.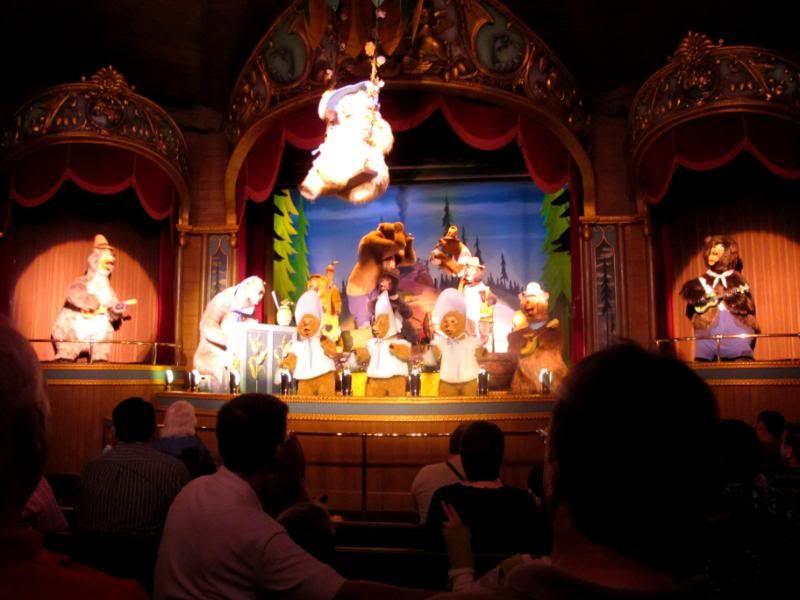 Pretty good entertainment for the kids, but I have to be honest here… I didn't see all of it because I was nodding off. I think the 9 days of non-stop fun was starting to catch up with me. I just hope I didn't scare any kids sitting around me with loud snorting and snoring. We then did another thing we never seemed to make time for before: the Liberty Belle riverboat. This is a nice, relaxing ride around the area and allows for some good photo ops you can't get from the regular walking areas: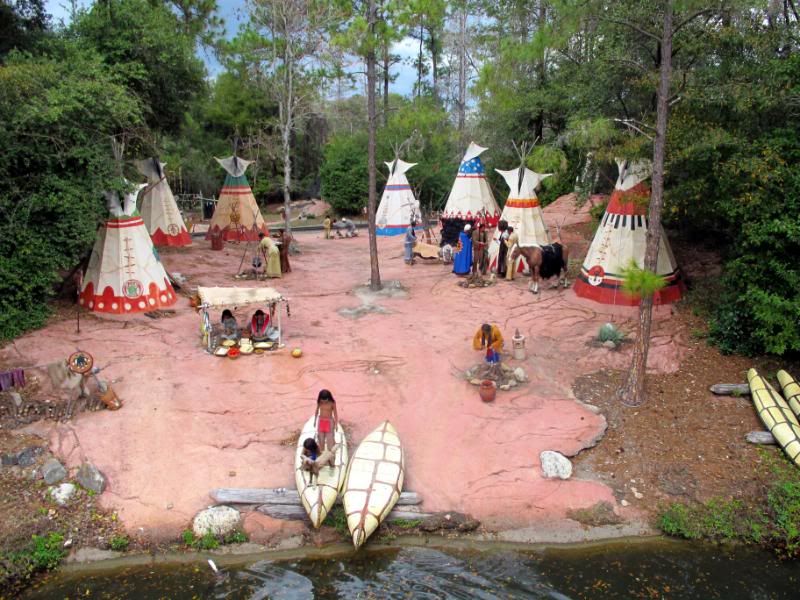 We then ventured over to TomorrowLand to ride Buzz Lightyear's Space Ranger Spin. I recently found out how to max out your points on that ride, but it was after we returned from our trip. So I can't wait until our next visit so I can whip up on DW like Ben Kenobi did to Darth Maul.

We then went to the Monsters, Inc. Laugh Floor. Even though I was not 'That Guy'again, DD and I were a 'two-headed monster' and they actually spent quite a bit of time featuring us on the video screen and asking us questions. The family LOVED this. More Disney Magic – even if it was something as little as this. It was great memory making.

We rode the TTAPM one last time and then went through some shops before getting on the boat to Wilderness Lodge for dinner at Whispering Canyon Café.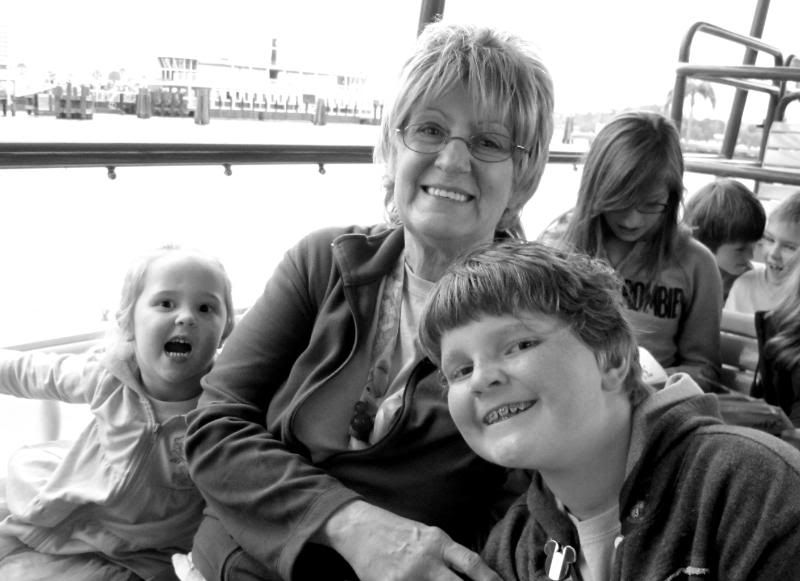 I did not have an ADR for WCC, but I was hoping we could do a walk-up since the crowds are not bad this time of year. (Have I mentioned that the crowds are not bad this time of year yet?) I walked up to the hostess and asked if we could get a table for 5. She gave the standard reply, "Sure, but it may take about 45 minutes." I told her that would be fine and we would wait for a table. Our beeper/flasher device went off within 5 minutes for our table. Dinner was great (as usual) and we went back to finally see the MSEP and the new Memories show on the castle before Wishes.

The new Memories show on the castle was GREAT! It is amazing how they get the castle to 'transform' with the projected images. We watched from a spot over by the Crystal Palace and here was one of the few decent pictures I got of Cinderella's Castle during the show (I didn't have a tripod.)



DD fell asleep in her stroller just before Wishes and we met a family from New Jersey standing next to us whose son was complaining about the possibility of the fireworks being too loud. We offered them some silicon ear 'putty' that we had not opened yet for DS (he has sensitive hearing), since we had two packages. They were very grateful and their son was able to enjoy the show without having to endure the loud noises. They had just arrived that day, so we gave them the rest of that package of unused silicon ear plugs for them to use the rest of the week. I love being able to help out a little like that spreading some of the Disney Magic.

We left after Wishes to get back to the TTC and then the condo. It made for a long day and late night, but it was our last full day and we were able to enjoy it fully. Too bad (looking back now) it is going to be a long time until we can return.



Up next: Goodbye Walt Disney World, hello Tampa (and goodbye Tampa.)
Chapter 12: Song Long, Farewell, Auf Weidersehen, Goodbye
---
After our great, long day at the Magic Kingdom, I climbed into bed feeling pretty exhausted. We had done most of our packing after returning from the park, so that made for 2 strikes against me – 1) going to bed very late, and 2) our last night of BigTex's Excellent Adventure. Bogus! Heinous! I hate that feeling you get in the pit of your stomach knowing it is your last night on vacation. It is something that can only be remedied by a shot of that pink Pepto Bounce-back. Unfortunately, we had no bounce-back offer because we stayed off-site. Ugh. Somehow I still was able to easily fall asleep only seconds after me head hit the pillow.

Morning snuck up on us and it was time to get up before we knew what hit us. We proceeded to finish the last minute packing and did the triple-check of all drawers, floors, beds, etc. for anything we may have missed. Once we (meaning "I") got the rental van loaded up with all of our stuff, it was off to Downtown Disney for breakfast at Earl of Sandwich. We are sure to eat at EoS every visit for lunch or dinner, but this was our first breakfast there. It was just as awesome as the lunch/dinner sandwiches. That bread is a vital part of the yum that is Earl of Sandwich. Our next trip I will try to make it over to EoS for breakfast at least once.

After breakfast we walked through some of the stores to do some last-minute shopping – getting shirts and souvenirs for extended family back home. Then it was time to drive to the Tampa/Clearwater area. We drove out there and found a nice looking place to eat lunch on the beach – a place recommended by an acquaintance of DW who lived around that area. I forgot the name of the place, but it was pretty good food and the views of the beach were great.

After we finished lunch and walked on the beach for a while, we drove to the Tampa airport. I dropped off the family at the departure area so I could drive the rental car back to the car return area. I met up with the family inside the airport and we went through security and off to our gate. The one great thing about flying out of Tampa is the security lines. Orlando airport has crazy long lines (as many of you are aware) and it can take quite a while to clear the security area. At the Tampa airport, there was no line at all. We just walked over to the security area and it was 'walk-on'. Nice.

It was Super Bowl Sunday and it was weird not being plopped in front of the TV all day. And it was also weird knowing the Super Bowl was being held back home while we were in Florida. Luckily, our flight was due to land at DFW while the game was still going on – so we wouldn't have to deal with the huge crowds of people coming in or leaving for the Big Game. And even though it has taken me over five months to finish this trip report, I still have not seen the game. I wasn't overly motivated to watch it though, since I am a Dallas Cowboys fan. If I had my way, both teams would have lost that game. But I digress…

Wrapping up this trip report, I will say we had an awesome time. The only way it could have been better is if we had stayed on-site. The crowd levels were extremely low and the weather was perfect – in the 70s every day. So we learned a lesson on this trip: no matter how much bigger the living space is, staying at the resorts trumps staying off-site for my family. The kids loved the trip but mentioned that it didn't feel like a true Disney trip because we didn't get to ride the buses (or stay in the Disney 'bubble'.) Inconceivable!

I highly recommend a late January/early February trip to The World!